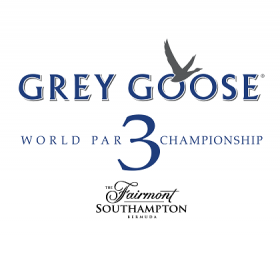 Grey Goose is the new title sponsor of the renowned World Par-3 Championship hosted at Turtle Hill Golf Club at The Fairmont Southampton in Southampton, Bermuda.
Formerly known as the Bacardi World Par 3 Championship, the 5th Annual Grey Goose World Par 3 Championship will be played on March 28-30, 2014 in Bermuda.
"The World Par 3 Championship has grown tremendously over the past four years, and we continue to enjoy an outstanding relationship with Bacardi and now its Grey Goose vodka brand," said Anthony Mocklow, Director of Golf for Turtle Hill Golf Club.
"The established leadership of Grey Goose in the golf arena makes the change in title sponsorship a natural evolution and we couldn't be happier with the continued support from Bacardi Limited."
As the world's premier par 3 championship, the tournament is expected to attract 190 participants from more than 20 countries, including a number of noted professionals.
Confirmed players include former European Ryder Cup player Ronan Rafferty, former PGA Tour player Ian Leggatt, former European Senior Tour winner Delroy Cambridge, Web.com player Jordan Mitchell [2013 champion], Canadian Tour players Ian Doig [2012 champion] and Nick Taylor [2011 champion], Bermuda's Daniel Augustus [2010 champion], Golf Channel analyst Charlie Rymer, past champions of the tournament, and other leading professional golfers from around the world.
The 2014 Grey Goose World Par 3 Championship will benefit the Bermuda Sea Turtle Project, the official charity partner of the Turtle Hill Golf Club. For information on the Grey Goose World Par 3 Championship, please email Director of Golf, Anthony Mocklow at anthony.mocklow@fairmont.com or call [441] 239-6952.
International qualifying events for 2015 will be piloted with a Bermuda-based Bacardi National Par 3 Tournament on January 18-19, 2014 for local golfers to qualify for a spot in the GREY GOOSE World Par 3 Championship in March 2014. Entry forms are available at the Bermuda Golf Association website and at every local golf club.
Read More About