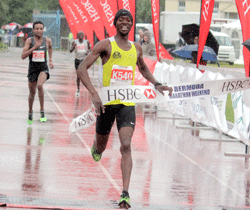 Jordan Chipangama and Sarah Brown won the 2014 HSBC Bermuda 10K Road Race which took place this morning [Jan 18] as part of the Bermuda Race Weekend.
Chipangama entered the stadium along with Diriba Yigezu and Harry Mulenga, however Chipangama out sprinted his opponents to cross the line 30:47, while Yigezu finished in second with a time of 30:49 and Mulenga was third clocking 30:52.
Lamont Marshall was the first Bermuda runner to cross the line with a time of 32:27 in 7th overall, Trey Simons was 9th overall and the second Bermuda runner with a time of 34:49 and Christopher Harris was 10th overall crossing the line in a time of 35:15.
Brown saw 11th overall when she broke the tape in a time of 35:24, Heather Kampf was the second female finisher with a time of 36:41 finishing 13th overall and then Bermuda's Ashley Estwanik finished as the third female finisher with a time of 37:26 finishing 16th overall.
We will post the full results as able.
Update 2.38pm: The full results are available here on Bermuda Timing.
Read More About