Construction work on the Acute Care Wing has necessitated the closure of a portion of the first floor corridor in the existing KEMH building on Friday, February 21 at 10am.
All services will continue to operate, but the public is advised that their normal access routes may have changed.
Clear signage will be posted to direct the public. Persons using the Heddington Gym, the Day Hospital, or visiting the Continuing Care Unit [CCU] will have to use the CCU elevator on the ground floor.
Access to all other areas on the first floor, including the First Floor Conference Room, the employee cafeteria, the lab, Blood Donor Centre, and Maternity Ward will not be possible by use of the CCU elevator from the ground floor. Members of the public visiting these areas must use the main elevators near the lobby or the stairwell in that area.
The necessary work is expected to last one month. Paget Health Services apologises for any inconvenience this may cause as we continue the progress of linking the Acute Care Wing and the existing KEMH building.
Map showing corridor closure in KEMH building: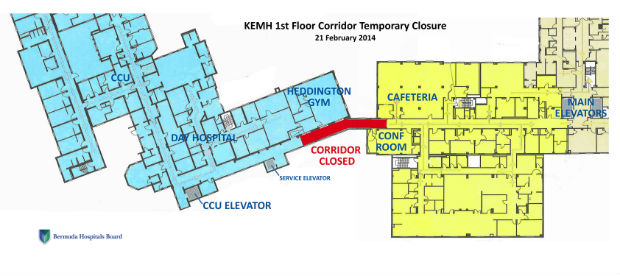 Read More About
Category: All