[Updated with photos] As of 10.00am this morning [Feb 2] traffic is being diverted on North Shore Road in Hamilton Parish after a prison van with six people inside it caught fire.
A police spokesperson said, "Around 8:55am Sunday, February 2nd first responders were dispatched to a reported vehicle fire along North Shore Road in Hamilton Parish near Bethel AME Church.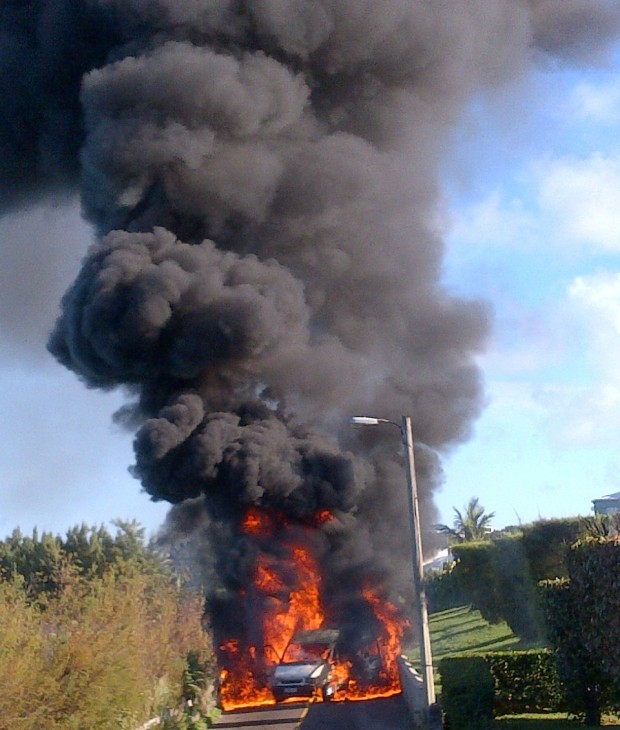 "Details are limited at this time; however there were no reported injuries and the fire has since been extinguished by the Bermuda Fire & Rescue Service. Traffic traveling in that area is being diverted on to Harrington Sound Road until further notice. Inquiries into this incident are underway."
Update: Fire Service spokesperson Leonard Davis said, "the Fire Service responded to the mentioned incident with two vehicles staffed with six personnel. Upon their arrival, the duty crew found a large vehicle fully involved in fire with smaller fires several feet away from where the vehicle was burning."
"Two firefighters dressed in self-contained breathing apparatus equipped with a 1 ½" hose line began to extinguish the vehicle fire. A booster reel was simultaneously deployed to aid in extinguishing the isolated fires."
"During questioning, it was determined that the vehicle was a Prison Service vehicle which had approximately six people inside it when it initially began to smoke.
"The individuals all exited the vehicle safely before the fire began to burn out of control. A fire investigator was called to the scene to help determine the cause of the fire. The fire is still currently under investigation."
Update Jan 3: A video of the burning van has been added here.
Click to enlarge photos, fire photos by Melissa Botelho
Read More About
Category: Accidents and fires, Accidents/Fires, All, News, Photos