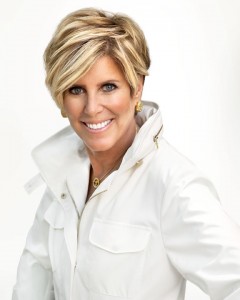 One of America's popular personal finance experts, Suze Orman [pictured left], is set to take the stage in Bermuda.
The two-time Emmy Award-winning television host, New York Times bestselling author, and magazine and online columnist is being brought to Bermuda by Colonial Pension Services Ltd, a member of the Colonial Group International.
"Like many places in the world, Bermuda is facing economic challenges and people are trying to make the most of what they have. If you value who you are, your family, and those you love, then personal finance needs to be on top of your priority list," said Ms. Orman, who was described by USA Today as "a force in the world of personal finance" and a "one-woman financial advice powerhouse."
"I hope that I can pass on some knowledge that will help everyone plan for their future," added Ms. Orman.
In March 2013, Forbes magazine awarded Ms. Orman a spot in the top 10 on a list of the most influential celebrities of 2013. In January 2013, The Television Academy Foundation's Archive of American Television has honored her broadcast career accomplishments with her inclusion in its historic Emmy TV Legends interview collection.
Ms. Orman is also the contributing editor for "O", The Oprah Magazine, and is in her 13th year as host of the award winning Suze Orman Show, which airs every Saturday night on CNBC.
Ms. Orman, whose talk will concentrate on personal finances and retirement planning, added, "I am absolutely delighted to be coming to Bermuda. It is a beautiful island and I hope I can pass on information that will prove to be helpful, and motivate the Bermudian people to save and feel more secure when it comes to their future."
The event is being held at the Fairmont Southampton Hotel on May 10, and Marie Jo Caesar, Chief Operating Office for Pensions at Colonial Group International, said there was already an overwhelming interest in the visit.
"Suze Orman is one of the most recognized personal finance commentators in the world. I am thrilled that she has agreed to come. Bermuda will learn a lot from her," said Ms. Caesar.
"Personal finance, especially pensions, is a crucial area. We are all living longer and we must be sure that our investments will cover our lifetimes. I hope that Ms. Orman's visit will help sensitize Bermudians to the importance of retirement planning."
Tickets to this event will cost $40. Details of how to register are expected to be released soon.
Read More About
Category: All