From January – April of this year, 101 individual whales were identified in Bermuda's waters, with the markings on their flukes serving to identify the majestic creatures as they pass through for their annual migration.
Humpback whales can be permanently identified by their unique black-and-white patterns on the ventral [bottom] side of their fluke [tail]. 101 individual whales were identified this year in Bermuda waters, of which 81 were new whales to our catalogue and 20 were re-sightings.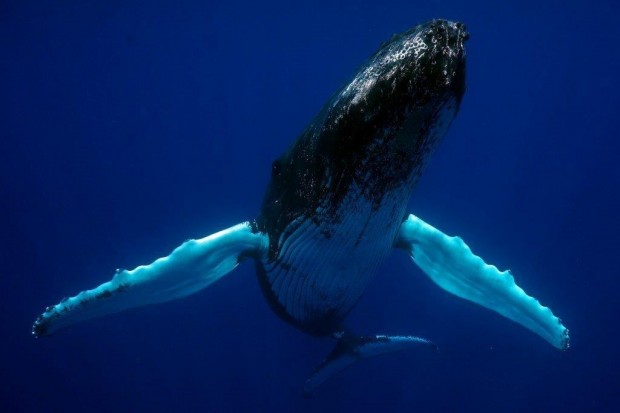 Whale researcher Andrew Stevenson explained that this compares to around 200 individual whales identified in each of the past two years, a decline that reflects the high winds we endured during the peak five-week period of the humpbacks' annual migration past Bermuda.
Mr. Stevenson said, "Our Bermuda Humpback Whale Catalogue now holds over 900 individual whale fluke IDs identified over the past eight seasons, 2007-2014 in Bermuda. The previous tally of Bermuda fluke IDs was 145 individual whales identified over a 40-year period to 2006. This database will be a permanent record of whales passing through our waters for decades to come.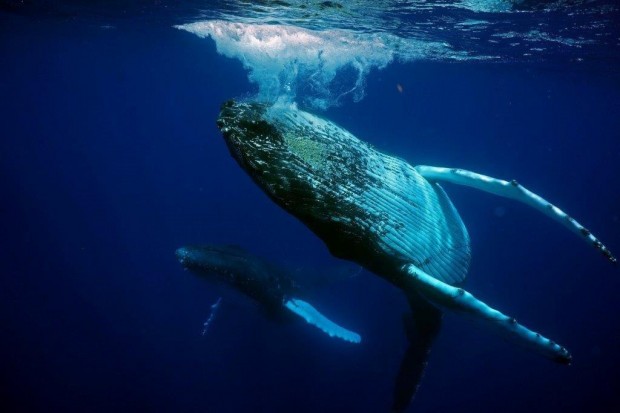 This year we had one 9-day layover again. 1300 was photographed in January over a nine-day period with photographs contributed by Andrew Stevenson and Claire Grenville. This whale was identified by one of our collaborating 'citizen scientists', Roger Etcheberry in St Pierre-et-Miquelon as a whale frequenting the waters around Newfoundland.
0039, aka 'Harry Potter' was photographed for the sixth time in eight years with photos from Andrew Stevenson, Lynn Thorne, Lindsay Smith. Harry Potter [named for its lightning scar on its identifying fluke pattern] was first identified in Dominican Republic 29 years ago in 1985.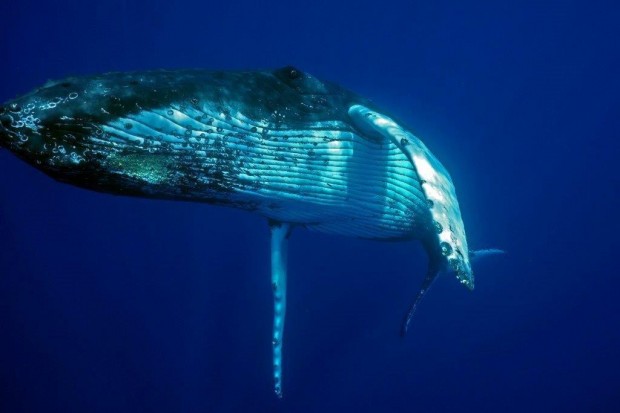 0047, aka 'Amberfish' photographed six out of the last eight years with additional identifying photographs contributed by Kelly Winfield, Antonia Ford-Roberts, Amber Farrow, Richard Lee, Henri Roth, Chris Burville, Andrew Dobson, Camilla Stringer, Lynn Thorn, Michael Smith and Andrew Stevenson.
"First photographed 35 years ago in 1979 in Newfoundland and Dominican Republic. 0047 was the last whale we photographed last year and may well be the last to be identified this year," Mr. Stevenson said.
A female, Victim, named because of its torn and scarred fluke, was identified with its new calf this year by Andrew Stevenson down on the Silver Bank, the North Atlantic humpbacks' breeding/calving grounds between Turks and Caicos and Dominican Republic.
Victim and her calf have already been identified on Stellwagen Bank, proof that both whales made the arduous migration from the West Indies to their northern feeding grounds outside Boston.
Mr. Stevenson added, "This kind of real-time collaboration is unlocking the secrets of the humpbacks, an animal, despite their size, that marine scientists know very little with respect to their pelagic lives."
Mr. Stevenson added that, "Bermuda provides a unique window into the mid-ocean, mid-migration lives of the humpbacks and the rapidly expanding Bermuda database is an invaluable piece of the puzzle as we discover what they do after they leave their breeding grounds and before they get to their northern feeding grounds.
"Whales identified here in Bermuda have been matched to sightings as far south on the USA eastern seaboard as the Carolinas up the Gulf of Maine, Newfoundland and as far north as Labrador, Greenland and Iceland."
- Photos & video courtesy of Andrew Stevenson/WhalesBermuda.com
Read More About
Category: All, Environment, News