Over the weekend of April 4-6, the Bermuda Triple Challenge will hold obstacle challenges for participants to challenge themselves physically, all in the name of charity.
"Many charities are struggling to keep their heads above water and continue to support those in need. We also acknowledge that many events have the appearance of being "competitive" and we want to change that perception, it's about fun, functional movement with friends and family. The Bermuda Triple Challenge addresses both components, incorporating mental and physical challenges while raising funds for the charities that help marshal the events. It's a win-win!" says Dr. Reid Robinson-Co-Founder.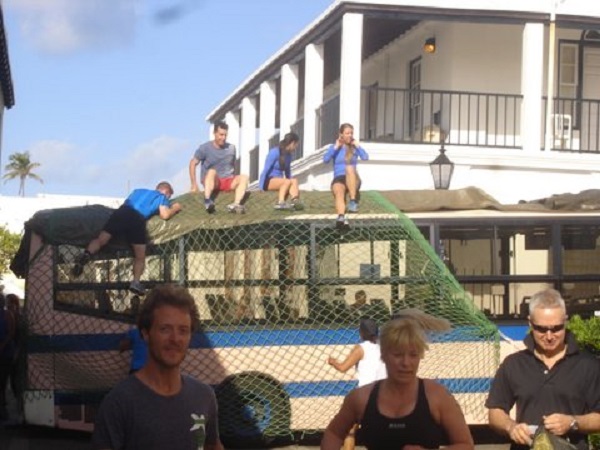 "This year, we're designing some new and interesting challenges. All the challenges are very achievable to all participants, but if you'd rather skip an obstacle, no big deal, we've got something else special for you." states Jason Correia-Co-Founder. "Having fun is important, so don't be afraid to humor yourself in your team's fanciest dress up costumes. It's certainly something that is encouraged."
All this in the name of registered local charities that will help organize each days' challenges. The charities are Knowledge Quest, The Sunshine League, Raleigh International, Bermuda Insurance Institute, New Beginnings Education Trust, as well as St. George's Prep, East End Primary and Somerset Primary PTAs.
These events wouldn't be possible without the tremendous support within the community and especially our leading sponsors KRyS Global, ACE Group and Butterfield & Vallis which have shown fantastic support aiding us to make this THE sports event of the year and years to come.
"KRyS Global is delighted to once again sponsor the Island Challenge", commented Mathew Clingerman, Managing Director of KRyS Global.
"We are committed to supporting the Bermuda community particularly with regard to innovative events that encourage teamwork, test personal resolve, and contribute to a healthy fitness lifestyle. The Island Challenge certainly fits the bill and we are proud to be associated with this growing and exciting event."
Registration is on racedayworld.com and teams of two or four individuals can sign up for any one, two or all three challenges. Fund raising electronically is also available through Raceday World. The schedule of events is:
7:15pm Friday, April 4, King's Square, St. George's – Butterfield & Vallis Urban Foot Race
9:30am Saturday, April 5, Warwick Camp – KryS Global Island Challenge
8:30am Sunday, April 6, Victualing Yard, Dockyard – ACE Global Royal Challenge
Read More About