Yachts sailing under the flags of 13 different nations set sail on Saturday [May 3] for their offshore adventures as part of two World Cruising Club Spring rallies; ARC Europe and ARC USA.
Venturing west to east across the Atlantic, 34 boats will sail with ARC Europe this year; 25 leaving from Nanny Cay, Tortola in the British Virgin Islands, and 8 from Portsmouth, Virginia, USA and one joining in Bermuda.
Both groups will converge in Bermuda to continue their ocean adventure to Europe and enjoy a cruise through the mid-Atlantic Azores archipelago en route.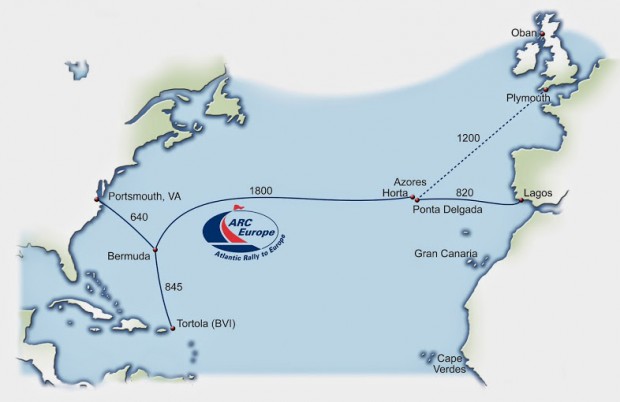 Amongst the ARC Europe fleet, many boats are returning after a winter of Caribbean cruising including 13 who sailed with the ARC and ARC+ in 2013.
New faces have been warmly welcomed with a social program in Nanny Cay quickly building friendship that will inevitably grow stronger still over the six-week voyage ahead. At the Ocean Marine Yacht Center in Portsmouth VA, host port for the US start, participants also got together to enjoy a happy hours, parties and safety demonstrations during their pre-start build up.
After 10 years of planning, Canadian sailor David Hayes of Morning Haze, is realising a dream to sail with his family across the Atlantic. His wife Isabelle and their two daughters Rebecca aged 14 and Demi aged 10, started their cruising adventures with the ARC Caribbean1500 from Portsmouth VA to Nanny Cay, Tortola in November 2013.  Both daughters are being home schooled or rather "yacht schooled", as their Hunter 410 is now home for them.
Conditions for the start of both rallies in Tortola were great. Sunny skies and a strong easterly breeze gusting up to 20 knots set the stage for what was an exciting start yesterday.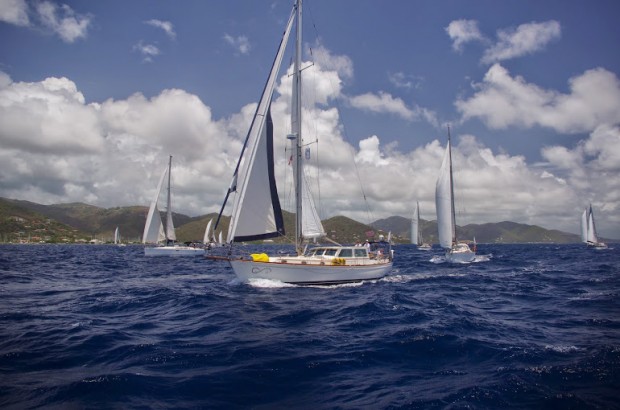 The downwind white sail start saw Charile Baynes' Webster, a Hanse 430, cross the line first closely followed by Catamaran Easy Rider and Dark Star, a Sou' Wester 48. Two yachts, Malisi and Puerki, will have a postponed start leaving Nanny Cay due to delayed arrivals of crew, however both aim to catch the fleet over the coming days.
The departure from Portsmouth VA, is no less interesting as boats motor out of Portsmouth Roads, passing the mighty ships of the US Navy across the river in their homeport of Norfolk. Once clear of the shipping lanes, and through the Chesapeake Bay Bridge/Tunnel, it is a 24 hour sail east to clear the Gulf Stream, before heading ESE towards Bermuda.
ARC Europe starters from both Nanny Cay and Portsmouth are expected to arrive in St. Georges, Bermuda in 5-7 days time and will be sure to enjoy a few customary dark n' stormy drinks on arrival. On 14 May they re-start for Leg 2 sailing approximately 1800nm to the famous mid-Atlantic rendezvous point of Horta in the Azores. Rather than sprinting across the Atlantic, the rally visits four of the islands over a 12 day period, with the option of visiting a fifth.
After almost two weeks cruising the Azores archipelago, boats either sail on with the fleet to Marina de Lagos in Portugal, or make their own way north towards the UK and Ireland. ARC Europe will come to a close with a final prize giving ceremony in Lagos on 15 June 2014.
Read More About