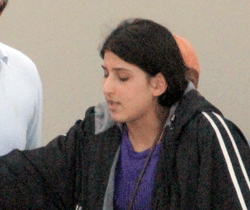 The Bermuda Amateur Swimming Association's National Championships held at the National Sports Center is swirling in controversy, with questions raised as to the gender of an Indian national competing in a female race
It all came during the girls 13 & over 50m breaststroke race, when India's Priyanka Priydrshni [pictured] clocked a blistering 30.88.
Following the event Priydrshni exited the pool and went straight into the changing room, with onlookers still stunned at the time.
Allegations have surfaced that the swimmer may not have been Priydrshni — but possibly her teammate Agnishwar Jayaprakash — who is a 23 year old man.
Despite the confusion and speculation, an official disqualification could not be issued, as there was no proof that Priydrshni did not take part in the race.
Read More About