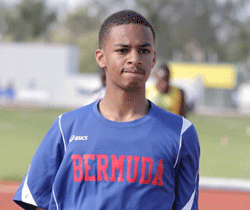 17-year old high jumper Jah-Nhai Perinchief will be the Bermuda team's flag bearer at the Closing Ceremonies of the Youth Olympic Games in Nanjing, China.
Perinchief finished 8th in the Men's High Jump A Final,recorded a top leap of 2.00m, with Danil Lysenko from Russia winning with a top leap of 2.20m. Yuji Hiramatsu from Japan finished second with a personal best 2.14m, recording the same height but finishing in third was Shemaiah James from Australia.
Bermuda was represented at the 2014 Youth Olympics in four sports by seven athletes, with Faheemah "Kyrah" Scraders [athletics], Jah-Nhai Perinchief [athletics], Kionje Somner [athletics], Cecilia Wollmann [sailing], Jesse Washington [swimming], Erica Hawley [triathlon], and Tyler Smith [triathlon] all competing against the best young athletes from around the world.
Read More About