With Bloomberg LP CEO Daniel Doctoroff stepping down, former New York mayor and part-time Bermuda resident Michael Bloomberg is returning to run Bloomberg LP, eight months after ending his final term as mayor. The 72 year old billionaire still owns 88 percent of the company, which he founded in 1981.
"This is a sad day for me and my company," said Mr. Bloomberg. "I really wanted Dan to stay and continue in his leadership role. But I understand his decision. I never intended to come back to Bloomberg LP after twelve years as Mayor.
"However, the more time I spent reacquainting myself with the company, the more exciting and interesting I found it – in large part, due to Dan's efforts.
"I have gotten very involved in the company again and that led to Dan coming to me recently to say he thought it would be best for him to turn the leadership of the company back to me. It was a gracious and thoughtful offer and one that I finally accepted after significant pushback and great reluctance."
Mr. Bloomberg with former Premier Craig Cannonier in January 2014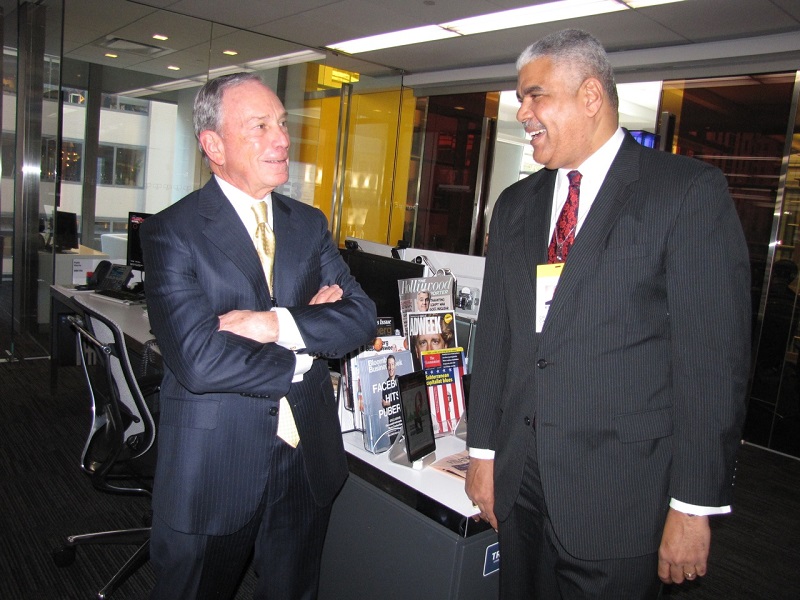 "Dan Doctoroff has been one of my closest colleagues and friends for thirteen years," said Mr. Bloomberg. "While at City Hall, he was the architect of the remarkable economic resurgence of New York City after September 11, ushering in one of the greatest periods of development and job growth in the city's history as well as conceiving of the city's pioneering sustainability program.
"Despite the fact that he knew next-to-nothing about Bloomberg LP and its business model, I asked him to lead my company with the same kind of disciplined and creative leadership he demonstrated in City Hall. He immediately immersed himself in the business and expertly guided Bloomberg LP through the worst financial crisis of our generation."
Mr. Doctoroff said, "I want to thank Mike Bloomberg for giving me the honor of being the steward of his great company. I am very confident that I turn it back to him well prepared to face future challenges and capitalize on the extraordinary opportunities it has before it. I also want to thank my colleagues on the senior management team, especially Peter Grauer, Tom Secunda, and Matt Winkler, all of whom were there well before me, who have been the real drivers of Bloomberg's success."
Mr. Doctoroff continued, "I love the company and have deep respect and affection for Mike, so leaving is not an easy decision, but it is the right one for the company, for Mike and for me at this stage of my life. It is and has always been Mike's company and given his renewed interest and energy, it only makes sense for him to retake the helm. I take pride in our achievements over the past seven years and I know the company will only grow stronger."
Read More About
Category: All