The police held a press conference today [Sept 29] to provide information about an altercation on Front Street this morning at around 3.30am, which has left several people injured, including one person in the ICU, with what the police describe as serious injuries from a stabbing.
The police said they have a "number of people in custody" following the incident, and are currently going through the CCTV footage.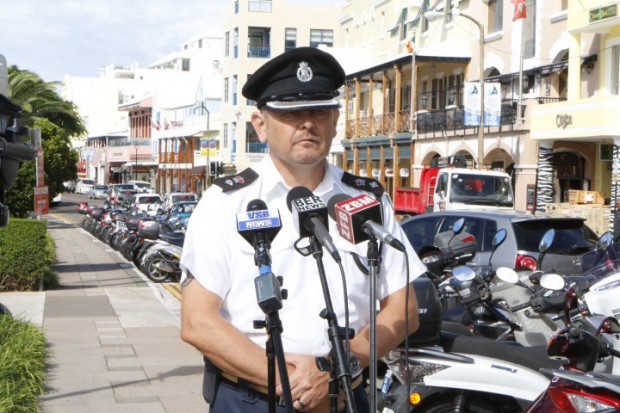 Superintendent Martin Weekes said, "At around 3.30 this morning, police were called to a scene of a fight going on on Front Street involving a number of people, and one person was seriously injured in that fight.
"We're appealing for witnesses to that fight, to people running away from the scene, people seen discarding clothing around the area, and anything that might lead us to assist with these inquiries.
"We have people in custody at this time, however we are currently going through the CCTV, and any witnesses that can come forward to assist us with exactly what happened – obviously it was dark – and so the more information we can get; there was a lot of people around at that time of day still, so we're appealing for witnesses to the fight and the aftermath where people left the scene prior to police arriving.
"That one person was injured by a stabbing, and they are currently in the ICU at the hospital. They're in a fairly serious condition.
"We have a number of people in custody right now; inquiries are still in the early stages, and obviously that's why we need the witnesses to tell us who did what. But we have some good CCTV coverage and we'll be working with that as well.
"There were a number of injuries apart from the one that's in ICU; a number of other people were injured in this fight.
"Right now, obviously owing to the seriousness of the injuries involved, we have got police officers searching all of the affected area along Front Street here, all of the trash cans, looking for evidence that will help us with this investigation.
When asked about the seriousness of the injury to the victim in ICU, Mr. Weekes said, "It is a fairly serious injury, yes."
When asked about the affect of the weather on the investigation, Mr. Weekes said, "The rain always will affect our forensic recovery of stuff, but we hope that we've already recovered quite a bit. We were here right when it happened, so we got some of the evidence then, and we do not believe the rain will affect us collecting more evidence this morning."
When asked if those involved in the fight were believed to have discarded clothing, Mr. Weekes said, "Yes, blood-stained clothing."
When asked if police thought the fight was connected to anything else, Mr. Weekes said, "Obviously we're investigating a number of incidents right now, some of which may be connected.
"We do not believe this to be connected necessarily with Saturday's events, however we're still investigating, we can't tell at this time where everything is connected with everything else."
Read More About