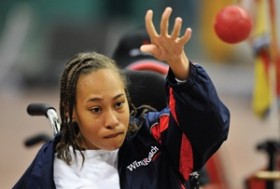 [Updated] Marking the first time that a Bermuda athlete has attended such a high level of competition in the Paralympic sport of Boccia, the island was recently represented by 20-year-old Yushae Simmons at the Boccia World Championships in China, finishing third in the event.
Ms. Simmons began the competition in B2 Group 5, taking on Nigel Murray of Great Britain in her first match, eventually going down 5-1.
In her second match, Ms. Simmons faced Bernd Meints from the Netherlands, narrowly missing victory as Meints took the win in the encounter by a score of 8-5.
A subsequent victory by Great Britain's Nigel Murray over the Netherlands' Meintz secured Ms. Simmons' third place finish at the Championships.
Ms. Simmons learned to play Boccia through the WindReach Adaptive Sports Program and has been competing internationally for just over two years. She has performed extremely well in this short time, moving up the world rankings and gaining valuable experience.
This was her fifth and, by far, her biggest international competition.
The athlete trained six days a week in preparation for competing in China, with her ultimate goal being to qualify for the Toronto 2015 Parapan American Games and the Rio 2016 Paralympic Games.
Ms. Simmons will return to the island on September 29, travelling with Troy Farnsworth [coach] and her mother Ashanti.
Update 12:20pm: Shadow Sports Minister Michael Weeks said the PLP "joins with all of Bermuda in celebrating the remarkable performance of Yushae Simmons at the Boccia World Championships in China. Her third place finish represents a tremendous accomplishment of which we all should be proud. We encourage continued success to this outstanding young Bermudian athlete."
Read More About