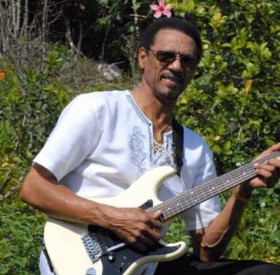 John Burch and percussionist Dennis Moniz, are teaming up to present a legendary musical performance at The Chewstick Lounge as the latest artists featured this Friday, October 3rd in the Live Fridays program.
Live Fridays, features a different band or performer each week, to break down barriers and support legendary and emerging talents that helps to revitalize arts, culture and tourism.
"John Burch is a fitting addition to the program as he has lived through and contributed to many different eras in the entertainment and tourism industry," Chewstick said.
"He will not only share his musical talents but also tell stories of crossing paths with international musical legends, the evolution of the industry and ignite the audience's passion for artistic expression through music.
"John Burch and Dennis Moniz will take over The Chewstick Neo-Griot Lounge with their eclectic style of reggae, rock, soul and traditional Bermudian flair. John will showcase tunes from his CD "I Got To Play My Music" along with notable covers and an array of originals, for an unforgettable evening.
"John Burch's devotion, talent and experience will be a treat for anyone who appreciates great music, great talent and the value of a connecting with our local treasures. This Friday's event will start at 9pm, entry is $10 with proceeds going directly to the artist. For more information visit chewstick.org or call 292 -2439. Come through and experience live, local entertainment in a comfortable and conscious space."
Read More About
Category: All, Entertainment, Music