The Bermuda Health Council [BHeC] has released the National Health Accounts Report 2014. For five years BHeC has produced the report, which is essential for monitoring Bermuda's health system financing and expenditure trends.
BHeC said, "The report details health system costs for the fiscal year ending March 31, 2013 [FYE 2013] and explains changes since 2007. Data going back to 2004 is available in previous reports and Excel tables available on our web site.
Chart extracted from the report: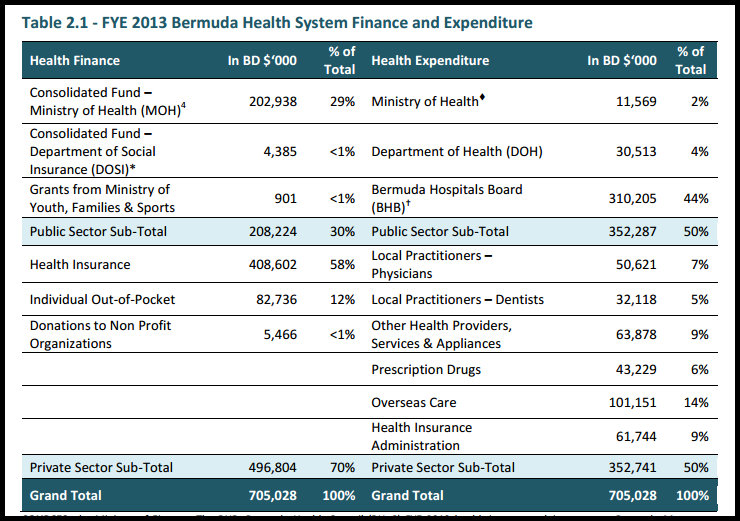 "The National Health Accounts Report provides a breakdown of where the money has come from to pay for the health system, and what that money was spent on.
"The publication provides stakeholders and the public with information necessary to understand, measure and assess our health system. The Report allows BHeC to meet one of its core mandates – to monitor health costs – as recommended by the Oughton Report [1996].
Some of the key findings of the 2014 report are:
Total Health Costs in FYE 2013 [Annex table A.4 of the report]
Bermuda's total health spending was $705 million
This amounted to 12.7% of GDP
Health spending per person was $11,297
Total health spending increased 5.2% from FYE 2012, when expenditure had remained flat from 2011 at under $700 million in total, or approx. $10,500 per person.
Funding sources: Where did the money come from? [Table 2.1 of the report]
70% of financing was from the private sector [$496.8 million]
30% of financing was from the public sector [$208.2 million]
This split is consistent with prior years
Health insurance accounted for 58% of funding [$408.6 million]
Individual out-of-pocket payments represented 13% of funding [$82.7 million]
Donations to non-profit organizations contributed 1% of health financing [$4.5 million]
Expenditure: How was the money spent? [Table 2.1 of the report]
50% of health spending was in the private sector [$252.7 million]
50% of health spending was by the public sector [$352.3 million]
This split was consistent with the previous year
Local hospital use accounted for 44% of total health spending
Overseas Care accounted for 14% of total health expenditure [$101.1 million]
Private, local health providers accounted for 21% of total health expenditure
Prescription drugs represented 6% of total health spending
Trends and context
The most significant areas of growth in health spending were overseas care [increased 12.5%] and health insurance administration [increased 13.4%]
The proportion of health spending on local physicians declined by 15.5%
With total health costs increasing by 5.2%, and Bermuda's population declining by 2.8%, these two measures combined lead to an overall per capita health spending growth rate of 8.2% for FYE 2013
Health spending as a percentage of Bermuda's GDP increased from 12.2% in FYE 2012 to FYE 12.7% in 2013.
The average expenditure as a share of GDP in countries of the Organization for Economic Co-operation and Development [OECD] was 9.3%
Life expectancy in Bermuda is lower than in a many OECD countries. Countries such as Canada, Australia, Luxembourg, the United Kingdom and Portugal have higher life expectancy despite spending less per capita than Bermuda
Dr. Jennifer Attride-Stirling, Chief Executive Officer of the Bermuda Health Council, said, "The Bermuda Health Council is pleased to bring to the public the fifth National Health Accounts.
"It is a report of tremendous value to the health system as it enables us to track trends in health spending across time, and to benchmark us to other countries. We are unique among many small island states in being able to produce such accounts.
Chart extracted from the report: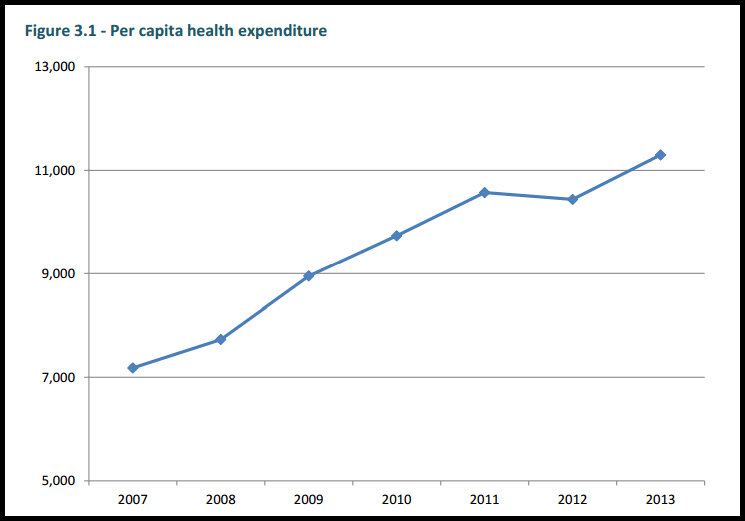 "This year's findings show that health costs continue to rise and highlight that recent declines in population have had a negative impact on per capita health costs. The report also indicates that over $1 in $7 Bermuda healthcare dollars are exported overseas annually, while spending on local private providers declines.
"The Health Accounts findings provide a significant evidence base to inform policy initiatives to control health costs in Bermuda."
"The National Health Accounts Report 2014 is published with a companion "In Brief" summary of the key findings, and an Excel version of the tables dating back to 2004. All documents can be found on our website at www.bhec.bm under "BHeC Reports & Publications"; or you may contact BHeC for a copy by emailing healthcouncil@bhec.bm or calling 292-6420."
The full National Health Accounts Report 2014 follows below [PDF here]:
Read More About