The PGA Grand Slam of Golf got underway today [Oct 14] at the Port Royal Golf Course, with excellent day one conditions seeing Martin Kaymer take the tournament lead at 6-under par.
Bubba Watson is second at 4-under par, while Rory McIlroy ended his day at 2-under par and Jim Furyk finished 1-over par.
A spokesperson said, "Martin Kaymer collected four birdies and an eagle through 10 holes on his way to a 6-under par 65, building a two-stroke lead Tuesday in the opening round of the 32nd PGA Grand Slam of Golf.
"The reigning U.S. Open Champion, Kaymer made his second appearance at Port Royal Golf Course a study in precision while finishing a stroke off the competitive course record. He finished fourth in his Grand Slam debut in 2010, never breaking 70.
"Masters Champion Bubba Watson finished two strokes back at 67 after a five-birdie, one bogey performance. Rory McIlroy, the Open and PGA Champion, was next at 69; and two-time PGA Grand Slam of Golf Champion Jim Furyk finished with a 72.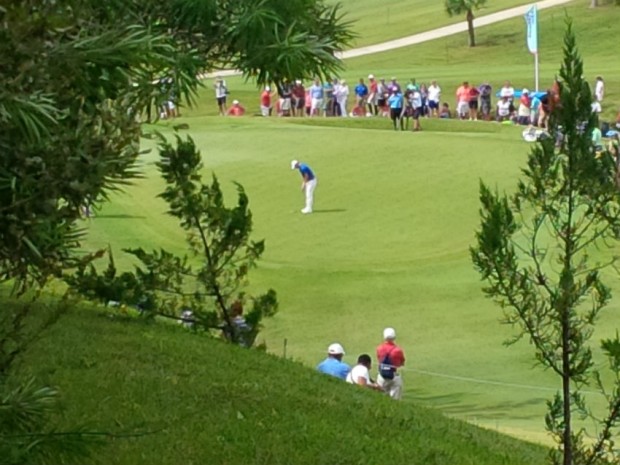 "After gaining momentum with birdies on his first two holes, Kaymer mixed in four special moments to extend his lead. He hit a wedge approach to two inches for birdie at the 6th hole. He followed that by knocking an 8-iron uphill from 182 yards at the par-5, 516-yard seventh to six feet and making the eagle putt.
"Kaymer later drove the 353-yard 10th green, two-putting for birdie. He also was the only member of the elite foursome to par the difficult, 224-yard par-3 16th with a 5-iron to the left edge of the green."
"I got a big bonus on 7; it was a very good 8-iron that I hit to six feet," said Kaymer. "Then I played really consistent. I think it's important on this kind of grass that you need to hit a lot of fairways." Kaymer hit 16 greens and needed 30 putts.
"Bubba Watson may have been the last of the PGA Grand Slam of Golf foursome to arrive on Bermuda due to travel difficulties, but he was dialed with five birdies."
"It was very solid," said Watson. "The only hiccup was on 16. I thought I hit a great shot, came up short, though. Tough bunker shot. I made a quick bogey there. Other than that, it was a solid round of golf. It was nothing too scary; not too many wayward shots."
Video examining hosting the tournament following Tropical Storm Fay:
"At one point in the round, it felt like Martin was leaving us all behind," said McIlroy, who saw his round nearly derailed with back-to-back bogeys at 8 and 9, before finishing 1-under on the back side. "The two bogeys sort of took the wind out of my sails a little bit, and I just found it hard to get going after that."
"McIlroy failed to cash in on his best shot of the day, a 4-iron from 205 yards into the wind to within six feet on the par-5 17th hole. "I think Jim's [Furyk's] putt before me just put me off a little bit, because it seemed to break quite a lot."
"All in all, I didn't play that poorly, but got absolutely zero out of the round today," said Furyk, who is making his fifth PGA Grand Slam of Golf appearance and first since 2008. "Scratching my head because I thought I could play better than that."
The first round scores follow below:
Martin Kaymer – 31-34—65
Bubba Watson – 34-33—67
Rory McIlroy – 35-34—69
Jim Furyk – 35-37—72
Read More About