The Bermuda Gymnastics Association had a stellar performance on Saturday [Nov 8] at the 2014 International Gymnastics Challenge hosted at the National Training Center in St. David's. The Bermuda Team competed against 75 overseas gymnasts from four different gymnastics clubs based in the New York and Pennsylvania areas winning the Bronze Level Division and numerous individual events.
The Bermuda Bronze 9-10 year olds made a clean sweep in capturing the Gold, Silver and Bronze medals in the All Around Category. Jezhari Talbot was the top scorer with 36.450 points, T'aja Williams was second with 35.600 points and Sanaa Burgess placed third overall with 34.250 points. Talbot and Williams also split the individual gold medals, with vault and beam titles going to Talbot and bars and floor to Williams.
Bermuda team with Premier Michael Dunkley, Senator Jeff Baron, and MP Suzann Roberts-Holshouser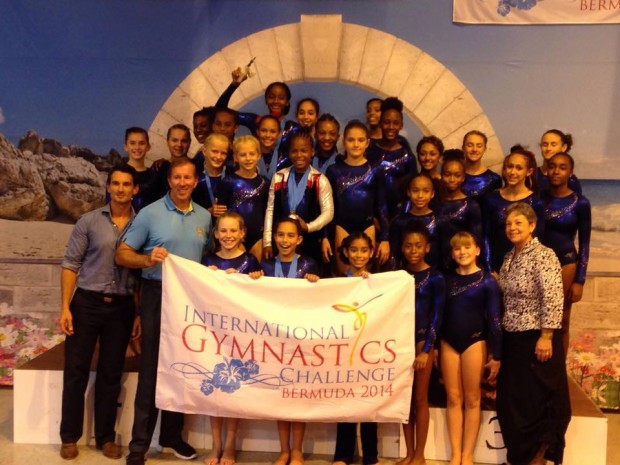 Other notable finishes included Amari Trott's silver medal on vault (9.2) and Yve Smith's silver on bars (8.8). The second clean sweep of the day for Bermuda was in the individual Bronze Vault event 10- 11 year old age group which saw Daria Symonds (9.100), Logan Watson-Brown (8.850) and Brianna Ray (8.800) on the podium.
Watson-Brown grabbed the gold on bars (8.4), and Daria Symonds won the All Around Category with 34.250, followed by Brianna Ray in second with 33.900. Also in the 10-11 yr age group were Mya Furbert-Jacobs and Rhianna Evelyn, whose top finishes came on beam (2nd, 8.75) and floor (3rd, 8.8) respectively.
In the Bronze age 12-13 group, Kayode George won vaulting with an 8.9, Holly Wakely earned the silver on beam with an 8.5, and Naomi Proctor had her highest finish on vault with an 8.4 for 3rd place.
In the Copper Level NYC Elite took top honors with 108.10 points overall with Bermuda placing second with 104.60 points and Gymnastics of York third with 99.40 points. Four of the Bermuda gymnasts were competing in the Copper 1 level, meant for first-time competitors only: in the 8-10 year old division, Ella Tear placed 1st with a 33.0, and Bailey Boyd placed 3rd with a 32.5, while Gabby Turchiaro and Bethany Cooze placed 6th (31.55) and 7th (30.5) in the 7-8 yr old group.
In the Copper 2 level, age 9-10 yr group, Annabelle Miller won bars with an 8.8 and Laura Hupman place 2nd on balance beam with an 8.7. Cimbryt Smith earned the gold on vault (9.3) and beam (8.5) in the 14+ year old category.
The afternoon session, which included the Silver, Gold and Platinum levels, Gymnastics of York took home the Gold with Bermuda capturing the Silver and Hill's Gymnastics the Bronze in the Team event. Top finishes in the Silver level 9-10 age group came from T'aja Williams on floor (1st, 9.45) and Jezhari Talbot on bars (1st, 7.4). In the 11-12 group, Maya Malpas won silver on bars (8.0), while in the 13-14 year olds, Kinae Dowling and Trinity Wilson finished 2nd (9.2) and 3rd (9.0) on vault.
Bermuda had another medal sweep in the individual Gold Vault 12 – 14 year old event, as Tomei Talbot (8.500), Ava Marshall (8.000) and Gianna Webbe (7.900) captured 1st, 2nd and 3rd places respectively. The senior Bermuda Team gymnasts in the Platinum Level were outstanding capturing 1st, 2nd and 3rd places in the individual Vault, Uneven Parallel Bars, Balance Beam and Floor Exercise events.
Samantha Soares nailed her beam routine for 1st (8.55) while Anna Francoeur earned her highest mark on beam as well (3rd, 8.3). Zantae Dill (34.400) won the Gold in the All Around Category with Tabytha Hofheins (33.700) taking the Silver and Gabby Vincent the Bronze (33.500). Complete results can be found at www.bermudagymnastics.com.
Click to enlarge photos:
Read More About