The Remembrance Day Parade saw crowds line Front Street on Monday [Nov 11] to pay their respects to the Bermudians who served in the two World Wars of the 20th century and other conflicts, many of whom did not return home after making the ultimate sacrifice
And Bermuda war veterans, the oldest of whom served in the Second World War, got a standing ovation as they marched alongside the Bermuda Regiment and the Regiment Band and Corps of Drums.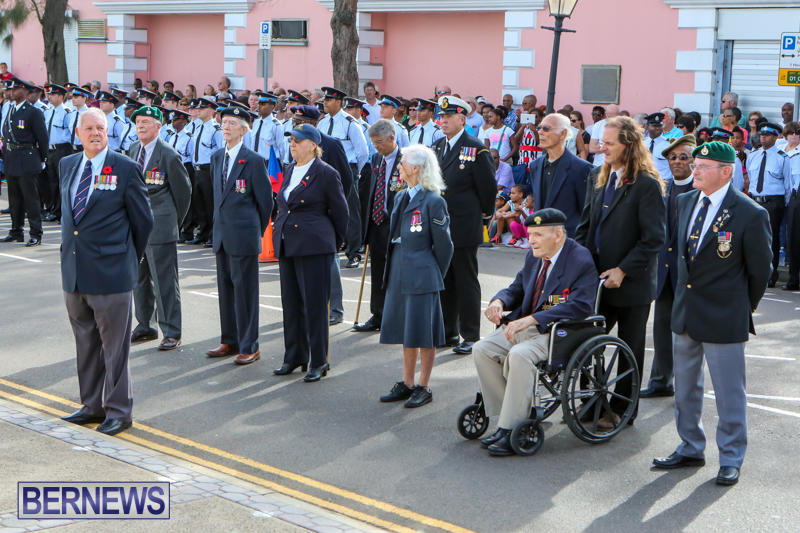 Regiment Second-in-Command Major Warren Furbert, who was Acting Commanding Officer for the parade as CO Lt Col Michael Foster-Brown is overseas preparing for next year's training exercise, said: "It was excellent – and the turnout was superb. Everywhere I looked, there were people watching the parade."
Maj. Furbert added the turnout of 14 war veterans reflected the passing of time. He said, "Every year, their ranks reduce in numbers and I think this year people really wanted to acknowledge these veterans. The British Army Masters rugby team were a welcome addition to the ceremony.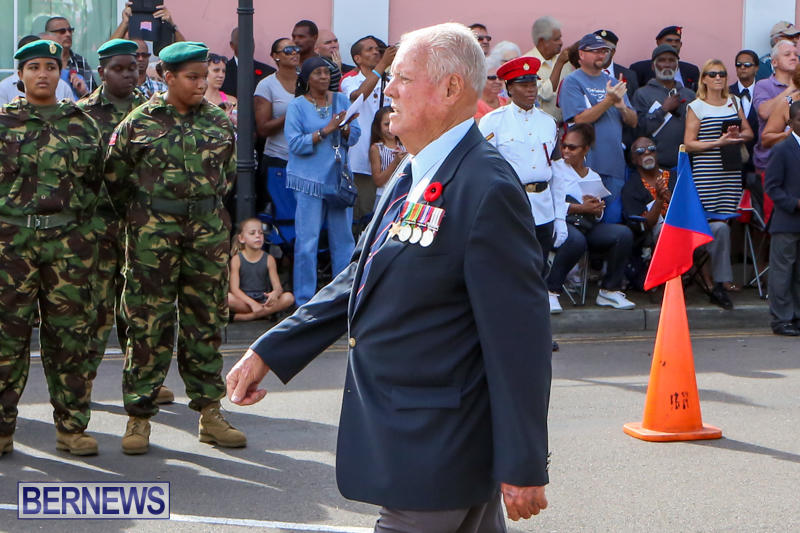 The parade was commanded by Major Larenzo Ratteray, The Regiment Band played a major role, alongside the Salvation Army Band, as well as the North Village and Somerset Brigade bands and the Bermuda Island's Pipe Band."
Former Grenadier Guardsman Allan Kuhn, now 93, went ashore in France with his regiment just after D-Day in 1944. He said, "The ceremony was very good. It was very well done and a lot of people came out. That's very important."
Eugene Levon, 61, from Pembroke, said he attended to commemorate his father Eric, a former Bermuda Militia Artillery soldier who served during the Second World War in Africa and Europe and who died four years ago, as well as his late brother Andre, a former Bermuda Regiment soldier who died in 2011 and his grandfather, also a former soldier."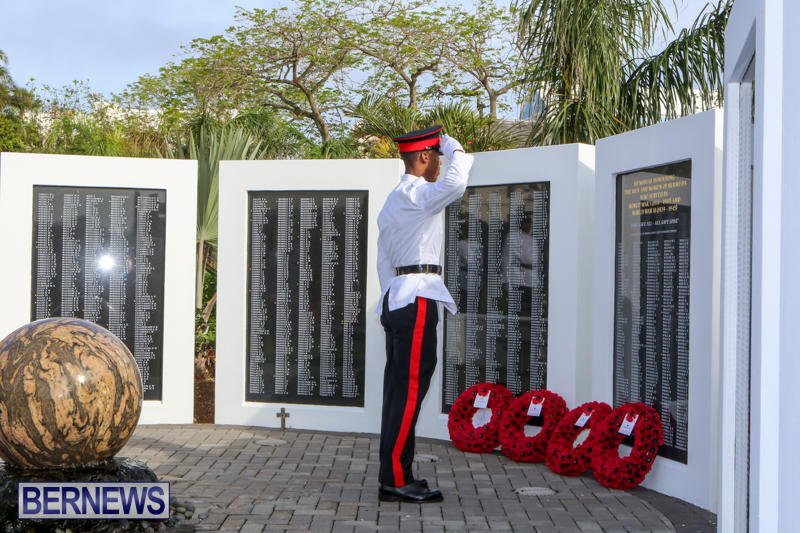 Colour Sergeant Spencer Sutton, a member of the elite British Army's Parachute Regiment, said, "It was a very poignant service. Bermuda does very well for a smaller country – it punches above its weight."
Captain Mark Dedman, of Queen Alexandra's Royal Army Nursing Corps, who has done multiple tours of duty in war zones like Afghanistan and Iraq, said, "We were very happy to take part in the ceremony, to remember not only the First World War and Second World War veterans, but the comrades we have lost in Iraq and Afghanistan."
Governor George Fergusson, who led the wreath-laying at the Cenotaph and later attended a special lunch for veterans, said, "It was a beautiful day and a beautiful ceremony. It was the biggest crowd I think I've seen since I have been here. It was very moving to have a chance to talk to some of these veterans about their experiences in a wide variety of different places."
Premier and National Security Minister Michael Dunkley added, "Service should never be forgotten and certainly our men and women in the First World War and any other time they went overseas to fight took a leap of faith based on their belief in freedom."
Click to enlarge photos:
Read More About