[Updated with videos] Groundbreaking for the new $85 million Ariel Sands project is underway this morning [Nov 12] with actor Michael Douglas, Premier Michael Dunkley, Minister of Economic Development and Education Dr. Grant Gibbons, Minister of Tourism & Transport Shawn Crockwell, and Home Affairs Minister Michael Fahy in attendance.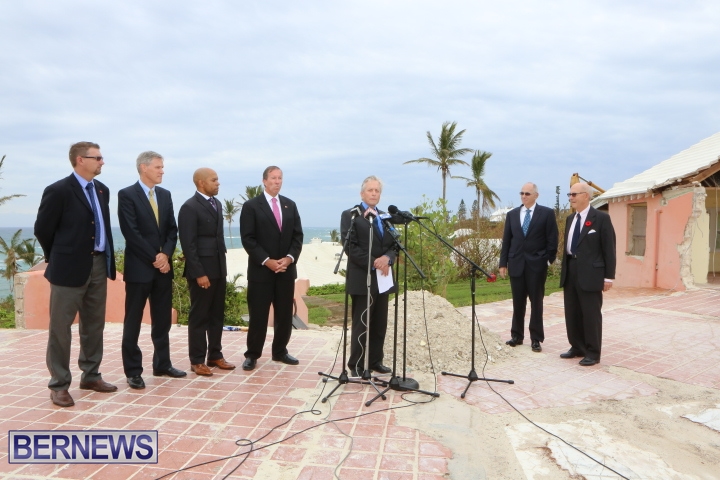 Earlier this year, Mr Douglas posted on Facebook saying, "Just returned from Bermuda, the home of my mothers family for the last 400 years! The family has had a cottage colony called Ariel Sands for the past 60 years. Now we are building a new one… very exciting."
The recent Throne Speech said, "Groundbreaking is set to take place next week at Ariel Sands, the start of an $85 million cottage colony development that will create between 50 and 70 jobs during construction."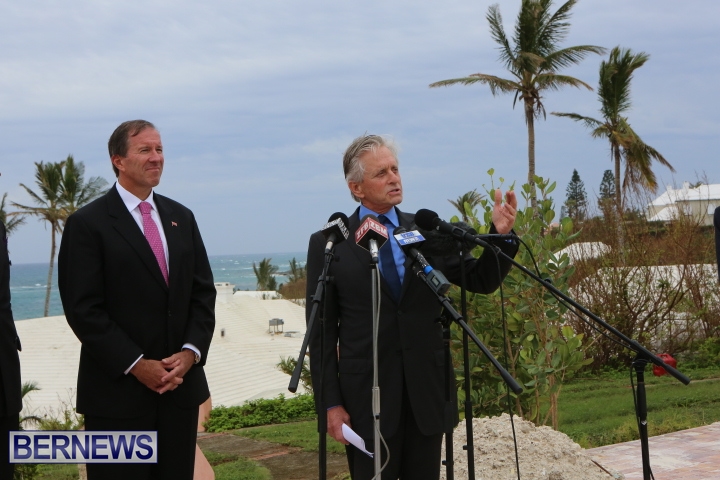 The Ground breaking is still underway, and we will update with additional information and a video as able.
Update 12.42pm: Slideshow added showing 40 photos from this morning's groundbreaking
Update 2.48pm: Shadow Tourism Minister Zane DeSilva said, "We are happy to see that Michael Douglas and the Ariel Sands family are reinvesting in Bermuda by way of redeveloping this historic site.
"Today's press conference, which unveiled the demolition of the current site, sets the stage for redevelopment of a new cottage colony that will hopefully add jobs to our economy, and lure more vacationers to our shores. The features that have been described in the press conference sound first class and will be a welcome addition to our tourism product.
"We cannot, however, speak to much more about the Ariel Sands project as there doesn't seem to be anything on file to speak to what the proposed development will be. All that can be seen on file is the approval for demolition.
"We speak with cautious optimism as until the resort has undergone the planning process and approval has been granted to begin construction, it is difficult to speak with any certainty."
Video of the groundbreaking
Ariel Sands conceptual stage visualizations by Onsite Engineering
Read More About