"A wonderful evening of top quality darts" was the consensus from the large group of players that attended the first major tournament of the Bermuda Darts Association calendar.
With lots of national ranking points available in this category 1 event. An event that is difficult to win as the draw is not in a normal bracket style format, the Winners go into a hat & each player is drawn individually for each round. Thus providing some entertaining matches from the beginning, as the top seeded players can draw each other right from the start.
The pick of the 1st round matches saw an in form Ryan Kromer facing last years singles champion Richard Phillips from Sandy's B.C.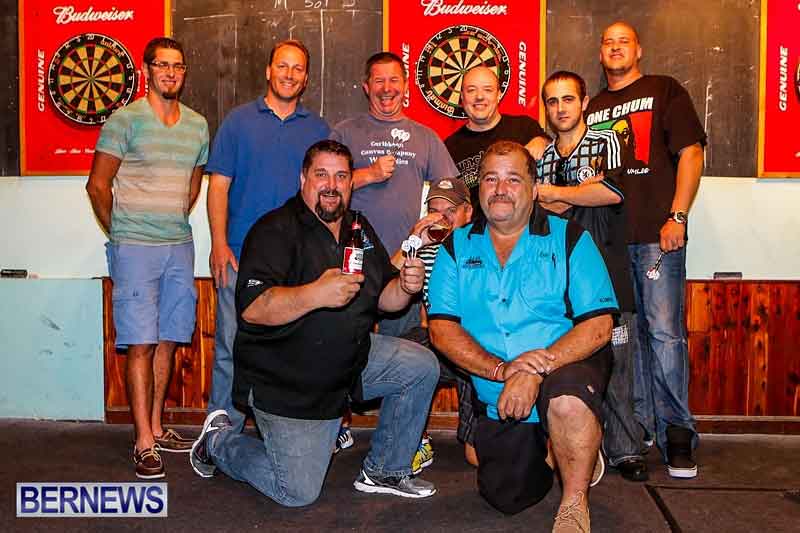 Phillips speed into a 2 leg lead, only to see Kromer fight back to level at 2 legs each. In a tight deciding leg Kromer took the match, hitting double top, after Phillips had missed darts to win the match.
The 2nd round the results were very competitive with numerous players shooting 180's including Freddie Albarido & Renato Reyes. Criz Caco shot some excellent arrows in a narrow defeat to Darts stalwart Boyd Lewis from St George's D&S Club. There were also wins for Ryan Kromer over Rodel Lorenzo, Freddie Albarido over Steven Almeida, Patrick Robiso over Eric Lewis, Marcho Pacheco over Renato Reyes, Manny Real over Jaime DeSilva & the battle of Belco saw Marshall Weller defeat his friend & work colleague Terry in a 3 leg Shutout.
Quarter Final action saw Simon 'Stubby Carruthers defeat Manny Real in a 3 leg whitewash.
Wins were also secured for Marshall Weller over Marco Pacheco, Freddie Albarido over Ryan Kromer, Boyd Lewis over Patrick Robisio.
The Semi Final draw was made, & first up was Boyd Lewis over Marco Pacheco. in a close match that saw each player missing chances at doubles to move into an early lead. Lewis then atoned for those earlier misses & moved quickly into a 2 leg lead. Pacheco came back to take leg 3, but Lewis got down to his double first in leg four, & made no mistake in hitting double 16 to win the match 3 legs to 1 & secure his berth in the Final.
The Second Semi-Final pitted two inform players together, Bermuda National Champion Simon 'Stubby Carruthers vs Last year's Unicorn Champion, Freddie Albarido. Carruthers got the game off to a flying start, after hitting the Bull & starting the first leg, his first three darts all went into the triple 20 for a opening 180. Top quality darts ensued with Carruthers hitting a 91 finish to move 2 nil up. Albarido then came back to take Leg 3, only to see Carruthers hit a 14 dart leg & take the last spot in the final.
The stage was set for the Final with Boyd Lewis vs Simon Stubby Carruthers in a race to win 3 legs. Carruthers won the Bull & would start first in Legs 1, 3 & deciding 5th leg if needed. After a slow start to the 1st leg Carruthes hit his double first, to draw first blood. Lewis lifted the pace in the next leg hitting numerous tons of his own, but a decisive finish from Carruthers hitting a 90 checkout OuterBull, Single 15, Bullyseye saw him go 2 legs up. Carruthers had the Darts in leg 3, which proved crucial to Lewis, as Carruthers got to the Double first, leaving his opponent unable to have any chance of winning the leg. Carruthers hit Double Top first time of asking to Win the match 3 legs to nil, & secure the first Title of the Season.
Bermuda National Ranking Points Allocation for this event
Simon Stubby Carruthers Winner – 24 Points
Boyd Lewis 2nd Place – 21 Points
Losing Semi-Finalists
Marco Pacheco Pacheco 16 Points
Fredie Albarido 16 Points
Quater Finalists
Marshall Weller 12 Points
Ryan Kromer 12 Points
Man Real 12 Points
Robiso Patrick 12 Points
Read More About