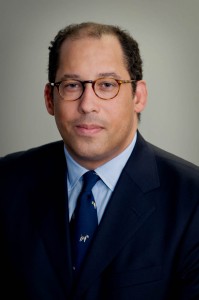 On Sunday, December, 21 2014, the Bishop of Bermuda, The Right Reverend Nicholas Dill, swore in and licensed David Astwood as the new Chancellor for the Anglican Church of Bermuda.
The ceremony took place at the Bermuda Cathedral at 10.00am.
David Astwood is a Partner/Director at Bermuda-based law firm Conyers Dill & Pearman, and specialises in corporate law.
"I am very excited about David Astwood coming on board," said Bishop Dill. "David will bring a decisive legal mind coupled with a long association with the church."
Bishop Dill says that he knows Mr. Astwood has a good sense of humour and a lightness of touch when handling complex issues, and that he is hard working and reliable.
David Astwood received his education at the University of Toronto [Economics and Political Science] and Kings College London [Law]. He is a Justice of the Peace and a Trustee of National Maritime Museum.
Mr. Astwood replaced David Cooper, who has retired as Chancellor after many years of service. Bishop Dill thanked David Cooper for his ministry and assistance throughout his time as Chancellor and wished him God's blessings in his retirement from this post.
Read More About
Category: All