[Updated with Ministry's response] The President of the Bermuda Taxi Owners Association [BTOA] has raised concerns about the rumble strips recently placed on East Broadway, saying the strips have caused "meters to malfunction" and "wheels to become misaligned."
"Those rumble strips are of a grave concern to the industry and they are already destroying our vehicles after only one week of being put there without any pre-notification," said Derek Young, President of Bermuda Taxi Owners Association.
"Taxi drivers are in and out of Hamilton many times a day on a daily basis. Most other vehicles enter and leave Hamilton once a day for either business or pleasure," continued Mr. Young.
"However, as Hamilton is the centre of the business industry we [taxis] have to drive along East Broadway, going out of town, many times on a daily basis.
"Those strips have caused our meters to malfunction, wheels to become misaligned and has even caused a driver to get his steering and front end checked," added Mr Young.
"Something needs to be done. Those strips either need to be removed or shaved to the point where it's not causing so much stress, wear and tear on our vehicles. We cannot go and keep spending money getting our vehicles repaired each time this happens.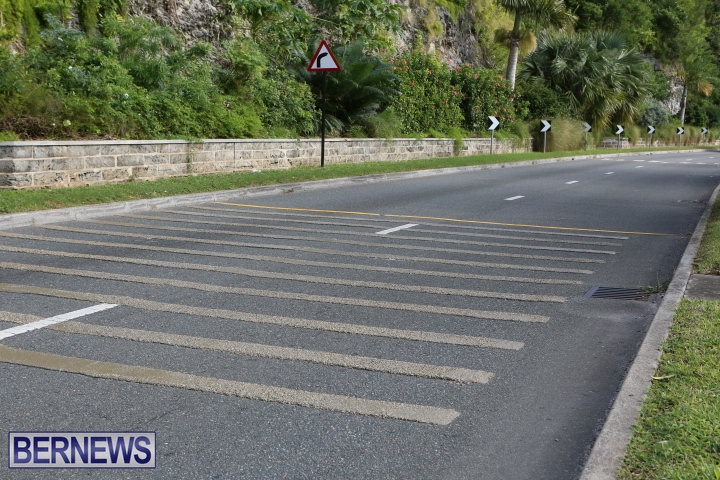 "Thought and proper planning should have been done by W&E before these strips were put down. I hope our complaint is taken seriously and something is done in the very near future," Mr Young concluded.
East Broadway has been a frequent accident spot over the years, with multiple fatal collisions occurring along the stretch, and placing rumble strips in the area has been previously discussed in the House of Assembly.
We asked the Ministry of Public Works for a response last night, and will update as able.
Update 1.18pm: In response the Ministry said, "As a result of a promise made by the Minister of Public Works, the Hon. Patricia Gordon-Pamplin JP, MP, 'rumble strips' or 'sleeper lines' are the latest road safety measure adopted by the Government to encourage motorists to slow down while exiting Hamilton along East Broadway.
"On this section of the highway near Crow Lane, there have been several road traffic accidents which unfortunately have led to fatalities.
"The Minister promised to take steps to make this road safer for the traveling public. To be effective, rumble strips need to create a reminder for motorists that attention is needed for motorists although they are not as severe as a speed bump. They cause a tactile vibration and audible rumbling transmitted through the wheels into the vehicle interior.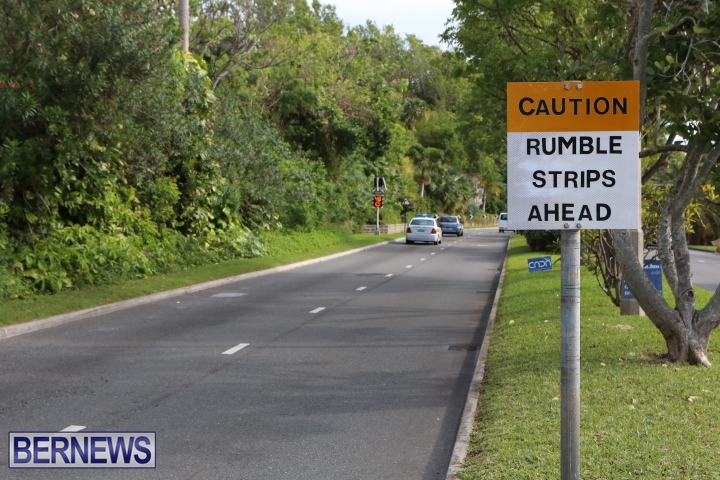 "The Ministry has placed chevron signs on the bend, an electronic speed display and now a second set of rumble strips in an effort to modify driving habits.
"Temporary signs were placed along the roadside to advise motorists of the new Rumble strips and more permanent signs are being established."
Read More About