The Bermuda Motorcycle Racing Club [BMRC] will be launching a newly developed Riding Clinic on Saturday, February 7, 2015.
The Pitsterpro Riding Clinic has been created to teach the attendees the basic fundamentals of motorcycle riding such as of braking, throttle control, corner entry and corner exit whilst gaining an understanding of road surface conditions.
President of the BMRC, Cyril H. Whitter III, said " With the increased awareness of the need for rider education on our island we have decided to launch our Riding Clinic. Our goal is to facilitate the learning and development of our current and future riders to make them more aware of motorcycle riding in its entirety. The ultimate goal is to produce safer riders and reduce the amount of accidents on our streets due to rider error."
There will be two courses offered:
Riding 101 – Learn How to Ride:
The Riding 101 course will be a weekly course allowing "drop-ins". The course will focus on teaching the attendees how to ride a motorcycle. This course is geared towards first time riders from ages 4 years old and up.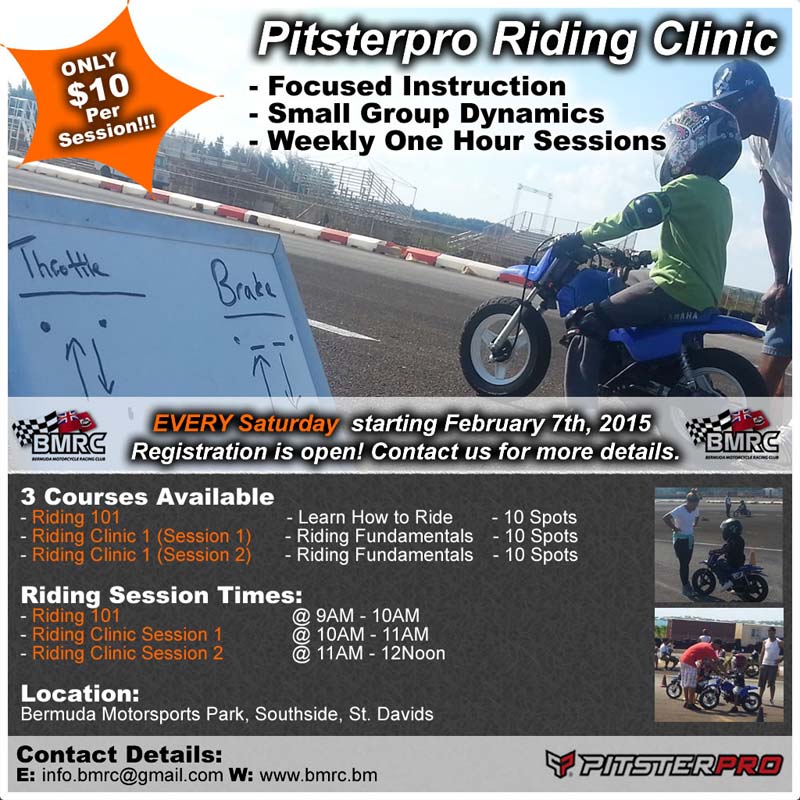 Riding Clinic 1 – Riding Fundamentals:
The Riding Clinic 1 course will cover five [5] modules over a period twelve [12] weeks with pre-registration required. Clinic 1 is a foundation course which provides the core fundamentals required for all riders to understand the safety aspects of riding a motorcycle on the road. Attendees will be taught fundamentals such ranging from basic mechanical preparation [such as tire pressures] to understanding the impact of target fixation on day to day riding. This course is geared to riders from ages 4 years old and up with a minimum requirement of knowing how to operate a motorcycle [Riding 101 or previous experience].
Equipment:
Full face helmets, elbow pads, knee pads and hand gloves will be provided to all students upon arrival at the course. The machinery provided to train on will be Pitsterpro Minibikes provided by Aries Bermuda Limited [www.pitsterpro.bm].
Start Date:
Saturday, February 7, 2015
Clinic Times [10 Spots Available Per Session]:
Riding 101: 9:00AM – 10:00AM
Riding Clinic 1 [Session 1]: 10:00AM – 11:00AM
Riding Clinic 1[Session 2]: 11:00AM – 12:00PM
Fees:
Per Session Cost – $10
12 Class Card – $100 [Save $20!]
Registration:
Registration is now open. The registration form had been attached and can also be found on our website [link here]. All registration forms should be completed and submitted via emailed to the BMRC email address [info.bmrc@gmail.com].
Read More About