The Bermuda Roller Derby [BRD] recreational team is getting set to host a recruitment day on January 18, 2015, inviting people who are interested in "learning how to play roller derby, meeting new people and improving their fitness level."
A spokesperson for the team said, "Since our team started skating collectively in April, we have been practicing the "minimum skills" of roller skating and learning the rules, safety regulations and strategies of the game during our weekly training sessions.
"The minimum skills requirements ensure that skaters maintain a controlled, safe skating environment and include things such as the correct derby form, crossovers and safe falls. BRD uses a flat-track and therefore is training to play the game according to the rules of the internationally recognized Women's Flat Track Derby Association [WFTDA]."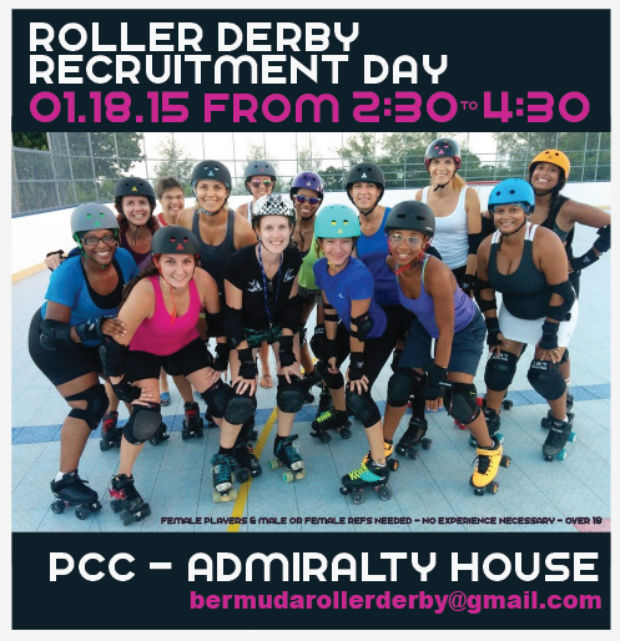 "Now that we have begun to master the fundamentals of skating, we have started using contact during training. We plan to begin scrimmaging against each other in the early part of this year with the long-term goal being to play roller derby games against teams from all over the world.
"We encourage anyone who may be interested to email us at bermudarollerderby@gmail.com for more information or to RSVP to our Recruitment Day, on Sunday, January 18 from 2.30pm to 4.30pm at the Pembroke Community Club rink by Admiralty House in Pembroke.
"BRD welcome members of all ages and abilities; many of our skaters had never put roller skates on before joining the team. The team itself is currently all female, however we are also in need of males and females alike to fill skating and non-skating official roles."
Read More About