Marsh and Guy Carpenter made a $4,000 donation to Meals on Wheels, which supplies nutritious meals for individuals in the community who are unable to prepare their own meals. Approximately 180 warm meals are delivered four times each week.
A frozen meal is delivered to Meals on Wheels recipients once each week to ensure everyone has a nutritious meal every week day. In addition to the meal delivery, a monthly luncheon club is held at St. Paul's Christian Education Centre in Paget on the first Thursday of every month, where lunch is served and entertainment is provided.
Marsh's David Ezekiel and Meals on Wheels President Joe Gibbons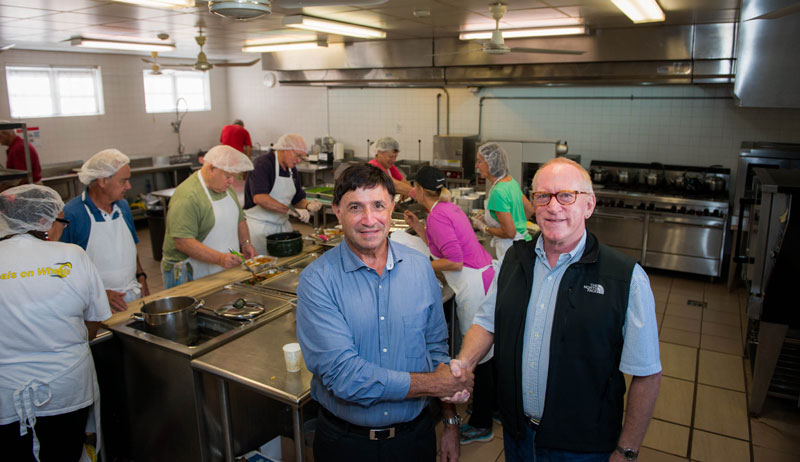 "At Marsh and Guy Carpenter, giving back to the community is a priority throughout the year. Meals on Wheels provides a vital meal preparation service to those who cannot or do not prepare nourishing meals for themselves. The donation is a token of our appreciation for all the organisation does to support the community," said David Ezekiel, Country Corporate Officer of Marsh & McLennan Companies, Bermuda and Chairman of Marsh's Bermuda Charity Committee.
"I am grateful to Marsh and Guy Carpenter for their donation to Meals on Wheels. We rely on the generosity of individuals and corporations like them to provide warm meals to everyone in the community who need them. Thank you to Marsh and Guy Carpenter for helping us to help Bermuda," said Joe Gibbons, President of Meals on Wheels.
Marsh and Guy Carpenter are wholly owned subsidiaries of Marsh & McLennan Companies, a global professional services firm offering clients advice and solutions in the areas of risk, strategy, and human capital.
Read More About