Investing in the Next Generation was a theme very much at the heart of the 100 Women in Finance [100WF] Gala Dinner, which recently took place at Sandymount in Bermuda.
A spokesperson said, "Almost 150 guests gathered at Sandymount's stunning property for a magical evening of food, drinks, live music and a silent auction, with a sunset view unlike no other.
"The Gala Dinner was produced by 100WF members in Bermuda in support of the organisation's work to help young women find their way into finance industry careers and to support them in their early professional life.
"The event raised more than $27,000 for the 2019 beneficiary, the Duke of Edinburgh's Award in Bermuda, which will go towards assisting female students from local schools to set sail on a five-day skills voyage aboard the Spirit of Bermuda, as well as for male and female public-school students to participate in ConnecTech robotics and coding classes.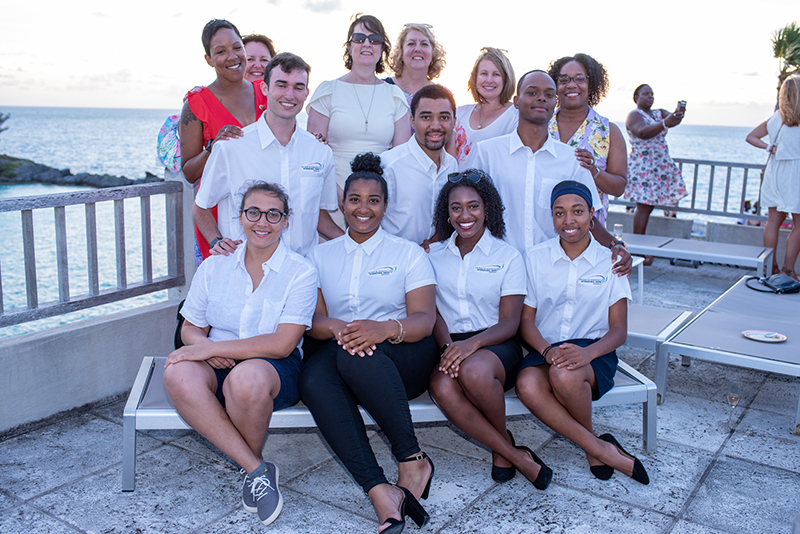 "Students from the Duke of Edinburgh's Award in Bermuda attended the event, selling raffle tickets, sharing their experiences from participation in the Award scheme and gaining a unique opportunity to connect with women from the finance industry."
Reflecting on the evening, Alison Morrison, Chair of the 100WF Committee in Bermuda commented: "100 Women in Finance's global philanthropic theme this year is Investing in the Next Generation.
"Our focus enables the organisation to advance purposeful pathways for young women toward careers in the finance industry, and to support them in early stage careers with a peer network and relevant programming.
"In accordance with this theme, this year's gala dinner beneficiary is a perfect match and we are so thrilled to be able to interact directly and support Bermuda's aspiring young women."
100 Women in Finance's CEO, Amanda Pullinger, who attended the event, commented: "Funds raised at the Bermuda Gala help to address a persistent challenge — the underrepresentation of women in investment and executive leadership roles in the finance industry.
"If we wish for teenage girls and early career women to have interest in a career path toward our industry's high growth areas – such as FinTech – we need help show them the way and demonstrate what's possible."
Gillian Kersse, Chair of 100WF's Philanthropy Committee in Bermuda added: "A huge thanks must go to our Platinum sponsor Walkers Bermuda and other event sponsors Butterfield, KPMG, MUFG, Zurich Re and International Financial Planning.
"This event simply would not be successful without the support of these organisations. They demonstrate real commitment to developing opportunities for our young women in our community and we are so grateful for their support.
"Our sincere thanks and appreciation also goes to Wendell Hollis for allowing us to host our event in his beautiful home at Sandymount."
Members of Bermuda's finance and alternative investments industries interested in joining 100WF can learn more about the organisation and the networking and education events that are planned throughout 2019 here or by contacting bermuda@100women.org.
If you are interested in volunteering a role model for young women in the finance industry, please contact us.
Read More About