Racing continued in Miami at the ISAF Sailing World Cup, with Bermuda's Cameron Pimentel, along with rest of the Laser fleet, leaving the boat park on Tuesday [Jan 27] morning with around 18-20 knots of breeze and temperature's in the 50s. 
The island's Ceci Wollmann also lined up to take part in the Laser Radial.
Commenting on the conditions, Mr. Pimentel said, "The physical aspect of laser sailing cannot be underestimated and with my weighing in at quite a bit less than the top sailors, I know to expect another tough day on the course, but that's why I'm here, to compete with the best in the world."
The day started well, with Mr. Pimentel tucked up close to the race committee boat at the start of the first race alongside the multiple world champion multi-Olympic medalist Robert Scheidt. He rounded the mark in the middle of the fleet and gained a few positions during the reach and downwind, finishing with a respectable 38th.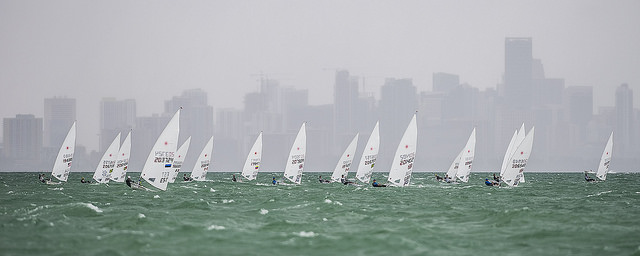 In the second race, Mr. Pimentel started alongside Tonci Stipanovic from Croatia, ranked number three in the world, and had a good upwind leg rounding the weather mark in the first third of the fleet. He kept his position during the reach and passed around 6 boats during the downwind. 
Things were looking good at this point, but during the second upwind leg a correct tactical decision was undone by a sudden drop and shift in the wind direction. Stuck on the edge of a puff, Mr. Pimentel lost multiple positions and finished near the back in 49th.
The final race of the day ended upbeat and so far, his best race of the regatta. Shaking off a disappointing race number two, Mr. Pimentel dug in, stayed with the fleet all the way around, and posted a 35th, which puts him currently at 87th overall out of 106 competitors. 
Mr. Pimentel said, "I'm disappointed with race number two, but at this level of racing I have to accept that there will be a few ups and downs.  My coach and I talked the situation through and will approach the next race with the same goal, which is to give 100 percent effort no matter what."
Ms. Wollmann finally got on the water, with the ladies sailing four races; she ended the day in 47th with 59 net points, recording finishes of 34th, 33rd, 16th and 10th.
Read More About