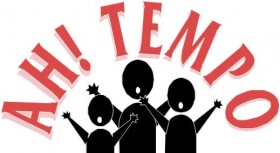 Multi-disciplinary performing arts programme, AH! TEMPO, is excited to be offering the island's young performers an engaging and challenging four-day intensive experience, including classes in vocal styles, vocal technique and drama.
"We're endeavouring to give our participants a truly memorable and valuable experience," said Programme Director, Rajai Denbrook. "Besides receiving fun and creative instruction from our consummate instructors, our students will also be helping to devise original drama around pre-selected music, which will be choreographed and then showcased on the evening of the 4th of April. We're also inviting local artists to perform for our students and participate in Q&A's".
AH! TEMPO is a show-choir performing arts programme that has recently returned as an after-school programme and day-camp experience, after a 14-year hiatus. Their mission is to increase access to high quality and formative instruction in all disciplines of the performing arts, that energetically promotes the artistic and personal development of its participants.
Presently their certified instructors are Musical Director Malinda Jennings and Mr. Denbrook, who have degrees in music and drama education respectively. The programme hopes to be adding a dancer to their team very soon; "I can put a few moves together for some pretty decent choreography, but you won't be seeing me in a ballet anytime soon," joked Mr. Denbrook.
"I think that the public should also know that we're a values-based programme," he continued, "meaning that we don't rely on rules and punishments to manage our students, instead, we have three core values that we use to motivate and empower them and their creativeness: family, excellence and creativity. When any of them fall short of one, they are still held accountable, but always in a way that prioritizes their development and avoids a punitive response".
The Easter camp-intensive will be from March 30th to April 2nd, 8:30AM – 3:30PM daily, and is intended for 9 to 14 year-olds who have a demonstrable level of vocal ability. The group is still in the process of confirming a location, but the camp will most likely be based at Bethel AME Church, where the after school programme is normally held, and where the showcase is going to be held. Interested students or parents should call 505.1159, email ahtempobda@gmail.com, or like AH TEMPO Bermuda on Facebook to register or for further information. The registration deadline is Saturday, March 28th.
"We would also like interested persons to know that we know what times are like right now, and are ready and willing to work within everyone's means as best as we can. At AH! TEMPO we don't want a lack of funds to impede anyone young person's access to this opportunity. It's going to be a great week!"
Read More About
Category: All, Entertainment