Team Hurricane Basketball Academy, a registered charity, will be participating in the upcoming Stanstead College March Madness Invitational Tournament to be held April 2nd and 3rd on the campus of Stanstead College in Quebec, Canada.
Team Hurricane President and Founder Doug Reed is excited about the upcoming tournament saying, "It will serve as a great opportunity for our student-athletes to test their talents and skills against international competition."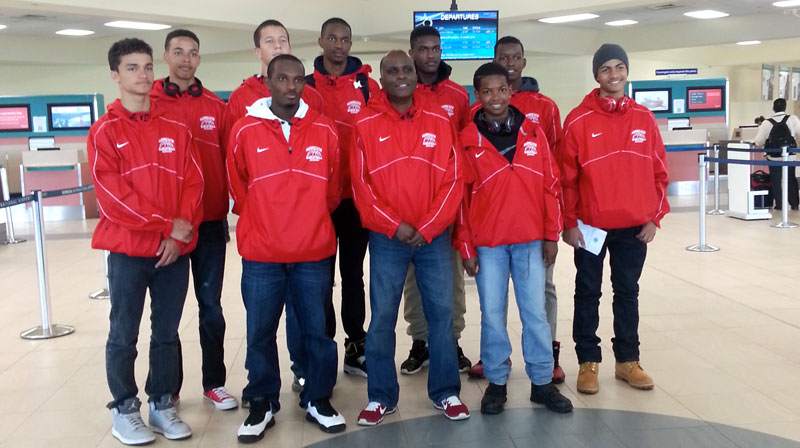 Mr Reed said, "This is Team Hurricane's first ever trip to Canada and we owe much to Tim Trott of Coach Bullet Basketball who was instrumental in helping our program make this opportunity a reality. Coach Bullet's girls' program will be in Canada at the same time we are.
"And while our schedules won't mirror one another, it signifies our two programs' willingness to collaborate on initiatives that will help grow the sport of basketball in Bermuda."
Stanstead College will host Team Hurricane leading up to and during the tournament. The relationship between Stanstead College and Bermuda began more than 2 years ago. Stanstead College basketball team last visited Bermuda for the Thanksgiving Classic held in November 2013.
Mark Bembenek, Stanstead's Head Basketball Coach, said "Really couldn't be happier to have our friends from Bermuda coming. Can only hope to match the exceptionally high standards of hospitality, generosity and kindness that we have experienced on our trips playing basketball in Bermuda. Every one of our players and coaches has been amazed by the warm welcome and positive camaraderie we have felt playing in Bermuda. We have a tough task ahead of ourselves in trying to match it."
Teams competing in the March Madness Invitational Tournament are:
Team Hurricane Basketball Academy
Triple Threat [Toronto, Canada]
NOVA [Quebec]
CEGEP de Sherbrooke [Quebec]
Stanstead Select [Quebec]
Coach Bembenek goes on to say, "It's very exciting to see high caliber teams from many different places and leagues all competing against each other, learning from each other and inspiring each other. No team can scout or plan for this event. Every team will have to work together in the moment to find ways to improve together."
Family, friends and supporters of the Team Hurricane Basketball Academy will be able to catch all the action via streaming, April 2 [starting at 3pm] and April 3 [starting at 12pm] here.
In the lead up to the tournament, Team Hurricane also has games scheduled against the following teams:
Lower Canada College [March 31 at Lower Canada College]
Massey Vanier Regional [April 1, 5:00pmat Stanstead College]
Chateauguay Valley Regional High School [April 1, 7:30pm at Stanstead]
Team Hurricane continues to seek out youth who wish to participate in its academy and in the highly competitive events such as the Stanstead College March Madness Invitational Tournament. Coach Reed stresses, "We continue to model this program as a grassroots effort which seeks to build young people of integrity. We do this at no charge to our players and their families."
"As a result, I wish to take the time to thank all of those who have contributed to our programs and initiatives for 2014-2015: ABWilson Photography, Ace Group, Allied World Assurance, Argus Group, Butterfield & Vallis, FIL Limited, Jardine Matheson International Services, Orbis, Tokio Millenium, Validus RE, XL Group, Zurich Insurance Company, as well as our individual donors. Such support allows Team Hurricane to continue to develop the youth of Bermuda through sports and education."
To learn more about how you can join and/or support the Team Hurricane Basketball Academy, please contact Coach Doug Reed at 504-1962 and/or hurricanehoops@outlook.com. Also, follow Team Hurricane on Team Hurricane Basketball Academy Facebook Page, as well as via their blog, and on Twitter.
Read More About