BIFF today [Mar 5] announces the jury, which will preside over the short film competition that forms an integral part of Bermuda International Film Festival, which will take place from March 20-26].
As BIFF is one of only a small number of Academy Award qualifying festivals worldwide, the winner of the Bermuda Shorts Award will be considered for the Short Film – Live Action Oscar in 2015.
The 2015 jury is headed up by Christine Vachon, multi-award-winning American independent film producer. Vachon has received ten Independent Spirit Award nominations, winning Best Feature for Todd Haynes' Oscar-nominated Far from Heaven, starring Julianne Moore and Dennis Quaid, and the Producer Award for I'm Losing You, which featured Rosanna Arquette.
She received a Gotham Award nomination for Oscar-nominated I'm Not There, starring Christian Bale, Cate Blanchett and Heath Ledger. Vachon's other productions credits are numerous and include several television projects such as the HBO hit miniseries, Mildred Pierce, which starred Kate Winslet.
Christine is joined by Academy Award nominated screenwriter, Craig Borton. Craig won a Writer's Guild Award for Best Original Screenplay for Dallas Buyers Club. The film went on to garner Oscars for its stars Matthew McConaughey and Jared Leto. In addition to his jury duty, Craig will be one of the presenters of the special screenwriting workshop, "The Write Stuff," taking place during the festival.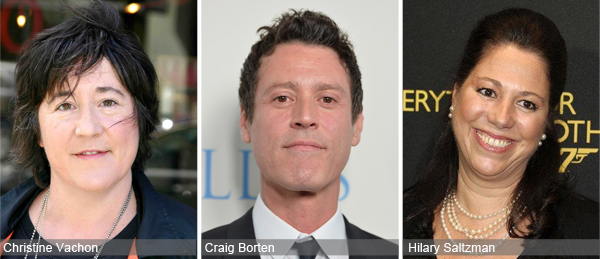 The jury is rounded out by established producer and writer, Hilary Saltzman. As the daughter of famous James Bond film producer, Harry Saltzman, Hilary was raised in the motion picture industry and grew up on film sets and locations all over the world. Hilary worked with her father in film development on his pictures Nijinsky and Time of the Gypsies [nominated for the prestigious Cannes Film Festival Palme d'Or Award and winning Best Director].
The panel will judge the 20 short films screening at BIFF 2015 in three packaged programmes [see www.biff.bm for scheduling information]. The competition shorts were selected from over 500 entries by BIFF's programming team of Andrew Stoneham, David O'Beirne, Alex MacDonald, Dawn Robinson and Terrance Smart.
Entries were received from all over the world and feature a huge array of characters such as a struggling farming family in Hungary, a women suffering from Alzheimer's in Paris, a Mexican bus driver who works as a drag-act by night and a young girl who has just received a live chicken as a birthday present in the former Yugoslavia.
Andrew Stoneham, BIFF's Festival Director, said: "Once again, we were struck by the enormous talent within this year's Bermuda Shorts entries. BIFF's profile as an Academy Award qualifying festival continues to grow and with it the volumes of short films we receive from all over the globe.
"I would like to thank the selection committee for dedicating the winter months to the process of selecting the finalists to be screened. We are excited about getting to meet some of the filmmakers coming to Bermuda to see their film screened, and of course spend some time enjoying the island during the festival."
A full programme of feature films has also been curated for BIFF 2015. The online film guide and further details are available at www.biff.bm.
Read More About
Category: All, Entertainment, Films/Movies