Taking a break from a current mural project, local artist Graham Foster popped into the ACE Gallery to see his work "Angry Birds" which is being auctioned as part of an event organised by the International Women's Club in aid of Kaleidoscope Arts Foundation and Phenomenal People.
"I am delighted to be able to support this event," Mr Foster. "I've seen the great job Kalediscope do inspiring and educating the next generation of Bermuda artists so I'm glad to support them any way I can. Programs like Kaleidoscope help to ensure that Bermuda will always have a vibrant, thriving arts scene."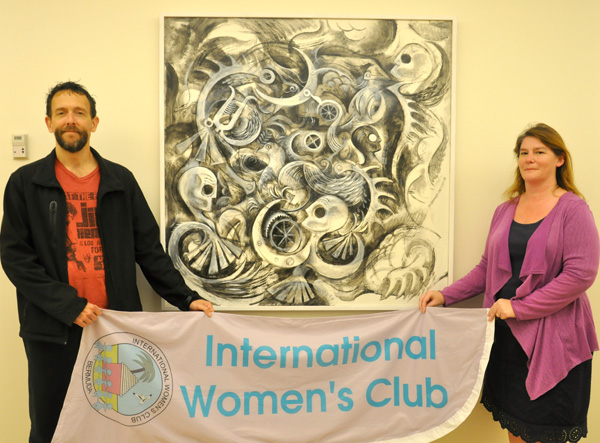 Mr Foster's donation is 48″ by 48″, and speaking on it he said, "I was working on a detailed commission, and wanted to loosen up a bit, plus take a break. I took a morning off and did a spontaneous drawing in paint using only black and white, based on some sketchbook drawings influenced by tribal art. I was going to tighten it up more, but then decided to leave it, as it has a loose energy to it that I liked."
The exhibition opens on Friday evening at 5.30 pm and will remain open Monday -Friday 10am-4pm until Friday 20 March. There are over 50 pieces of artwork for sale, with additional pieces being part of a silent auction.
To place a bid on this piece or to find out more about the exhibition please contact philanthropy@iwcbda.com or publicity@iwcbda.com.

Read More About
Category: All, Entertainment