The Freddie Mae Leverston Leadership Foundation [FMLLF] in Illinois recently held an event featuring Bermuda's Fred Ming, with the chef hosting a cooking presentation dubbed 'Chef'N It Up Bermudian Style.'
A renowned chef, Mr. Ming is also an instructor and author, a Member of the Most Excellent Order of the British Empire [MBE] and serves on the FMLLF Honorary Advisory Board.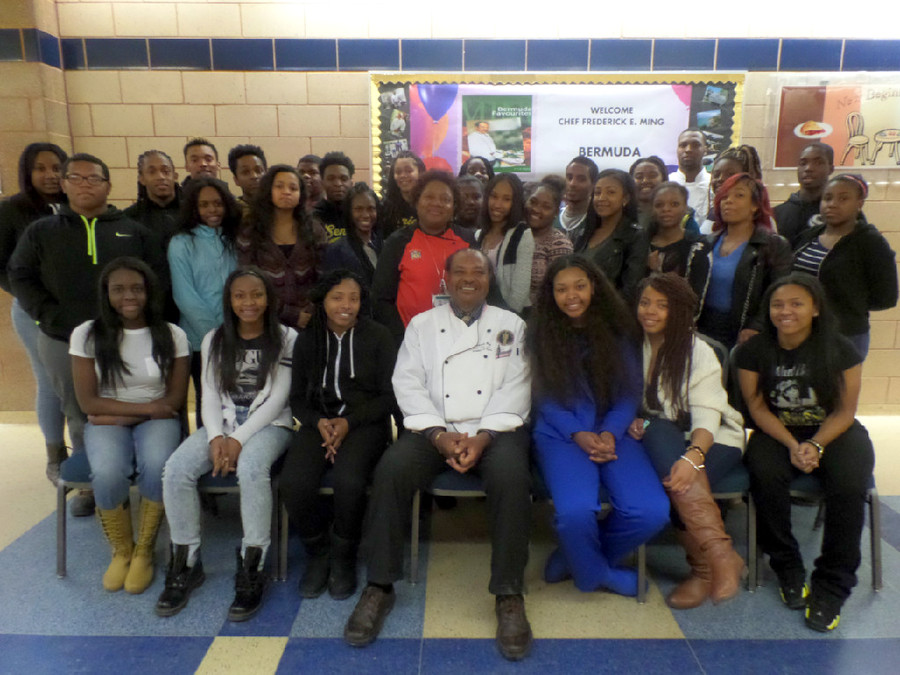 "With over fifty high school culinary arts students from Simeon Career Academy and other invited guests in attendance, Chef'N It Up "Bermudian" Style was a resounding success," a spokesperson said.
"Chef Ming beguiled everyone as he shared his culinary journey, his culture, and his Bermudian inspired dishes. Ming also served as a judge for the Careers through Culinary Arts Program cooking competition held at Le Cordon Bleu College of Culinary Arts, in Chicago.
Chef'N It Up Bermudian Style cooking presentation with Chef Ming:
"Chef'N It Up Bermudian Style provided the Culinary Arts students with more than just an experience in learning how to cook," the Foundation added.
"The students also gained experiences and knowledge of culinary arts and hospitality from the island of Bermuda and its culture from a chef who has prepared culinary dishes during his travels around the world.
"The culinary students were treated to years of experience in instruction, presentation, inspiration, and preparation of culinary delights."
For more information regarding Chef'N It Up "Bermudian" Style, visit the FMLLF website.

Read More About
Category: All, Entertainment, News, Videos