The Bermuda Fire and Rescue Service [BFRS], the Department of Corrections [DoC], the Bermuda Regiment, and the Bermuda Police Service [BPS] are joining forces again this year in order to raise money for charitable causes through their Annual Inter-Service Charity Golf Tournament.
A police spokesperson said, "The Coalition for the Protection of Children and The Centre Against Abuse have been selected as our charities of choice for this event and all proceeds will be divided equally and donated to these charities.
"The tournament will be held on Friday, March 13, 2015 at The Port Royal Golf Course, starting at 1.00pm. The competition will be played in the Captains Choice format for teams of four."
Representatives from Port Royal Golf Course, Center Against Abuse, BFS, BPS, and DOC: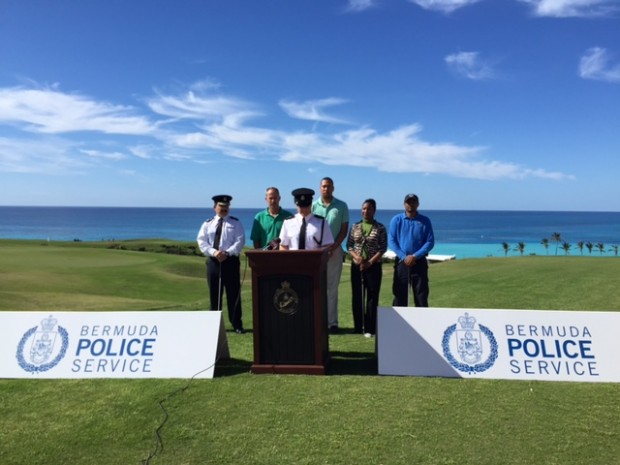 "We are expecting a full tournament of 24 teams with participation from all four services as well as partners in HM Customs, Department of Immigration, US Customs and Border Protection, and the Bermuda Post Office. Together, and as part of our everyday service to our community, we understand the positive impact these charities have in our community.
"As such, our goal is to raise $15,000 for these charities. However, this goal is not achievable without sponsorship support from community-conscious individuals and businesses like you.
"There are a number of opportunities and levels of sponsorship. We would be grateful for any support the community can offer. If you are able to support the Inter-Service Charity Golf Tournament, please contact the event coordinator, Inspector Tracy Burgess at tburgess@bps.bm or 247-1060."
Read More About