The Bermuda Tourism Authority [BTA] has pledged financial support via an interest-free loan in order to support a new visitor experience involving three-wheel scooters, the brainchild of two Bermudian entrepreneurs in their thirties.
ScootCoupe Bermuda plans to introduce a collection of three-wheel scooters as part of a four-hour end-to-end guided tour experience for vacationers. First-time entrepreneurs TJ Clark, 31, and Justin Robinson, 30, are assured a $30,000 interest-free loan from the BTA to get their innovative idea up and running.
"This tour experience will target the 300,000-plus cruise visitors that come into Dockyard and provide them a new, exciting option to see the whole island from west to east," said Mr. Robinson, who works in the international business sector.
ScootCoupe partners Justin Robinson and TJ Clark: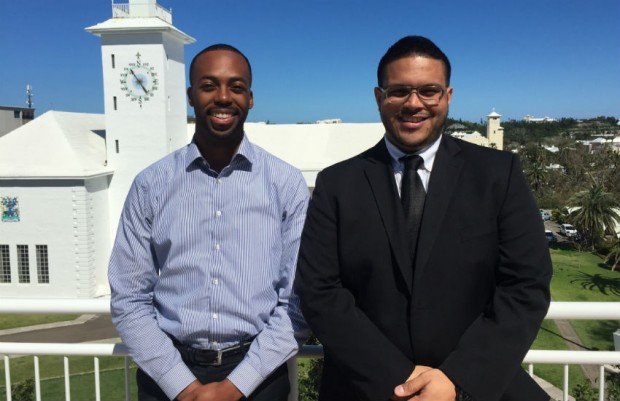 "We'll help visitors experience tourism hubs along the way and partner specifically with businesses in St. George to encourage customers to experience what the east end has to offer."
"This Tourism Experiences application checked a lot of strategic boxes for us and that's why we were motivated to find a way to support it," said Pat Phillip-Fairn who oversees the entrepreneurs' investment process for the BTA.
"ScootCoupe Bermuda provides a method to stimulate higher on-island spending from cruise ship passengers. It also provides an innovative way to get cruise ship passengers to St. George – where we are working with stakeholders to increase visitor foot traffic."
Public buses, taxis and minibus services are among the options available to cruise visitors for guided tours of the island out of Dockyard. ScootCoupe Bermuda believes its experience will complement the current market offerings, appealing particularly to youthful, adventure-seeking vacationers.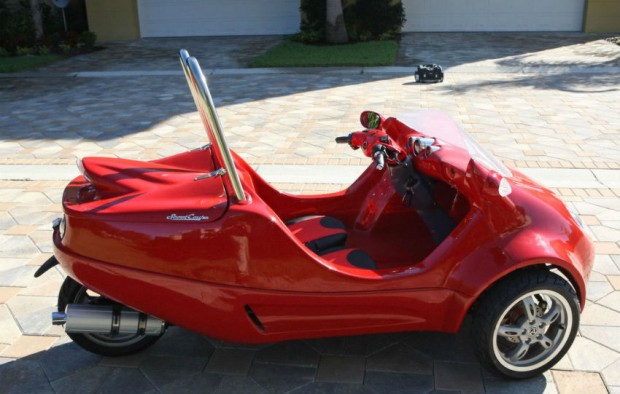 The two-seat vehicle sits the operator and passenger side-by-side in a topless three-wheel vehicle. Seat belts and helmets are required and a trained ScootCoupe Bermuda guide will lead the group around the island.
Mr. Clark, who works in banking, said, "ScootCoupe is for those who have an affinity for adventure and the outdoors, similar to a jet ski tour except this is on land instead of the water. We allow the visitor to experience the sights, sounds and smells of Bermuda in a way not currently available."
Several destinations around the world, like Las Vegas, St. Maarten and Captiva, Florida, already have ScootCoupe operations. ScootCoupe Bermuda must first get regulatory approval from the Bermuda Department of Transportation before it can begin offering its experience.
Depending on the pace of the regulatory process, ScootCoupe Bermuda hopes to have acquired its vehicles and established a physical location in Dockyard by August 1st of this year. The $30,000 financial support from the Tourism Authority is dependent on the company's ability to reach certain milestones on the road to launch.

ScootCoupe Bermuda believes it has the business plan, financing and legal advice necessary to get started successfully. It says receiving a green light from transport regulators is the final major hurdle to clear. The approval being sought at this stage will allow a customer to rent a ScootCoupe vehicle only when it is part of a guided tour experience.
The next opportunity for entrepreneurs to submit ideas in the Tourism Experiences process is September of this year for investment in 2016. Information on the process will update on the BTA's corporate website.
For 2015, the process is closed – 41 ideas are slated to receive funding, totaling more than $813,000 in investment. Four of the 41 investments are interest-free loans.
Read More About