[Updated with video] To mark April's Alcohol Awareness Month, CADA hosted a press briefing today [Apr 1] with the theme of 'Encouraging Responsible Alcohol Behaviour.'
Those present including Premier and Minister of National Security Michael Dunkley, Shadow Minister for National Security Walter Roban, Chief Inspector Jerome Laws, CADA Executive Director Anthony Santucci, Junior Minister for Community and Cultural Affairs Nandi Outerbridge, and the Director for National Drug Control, Joanne Dean.
Speaking this morning, the Premier said: "The Department for National Drug Control supports CADA's efforts to increase public awareness and understanding about the dangers of drinking too much alcohol."
"As reported by the US National Council on Alcoholism and Drug Dependence, alcohol abuse and alcoholism can affect all aspects of one's life. "
"Long-term alcohol use can cause serious health complications; affecting virtually every organ in your body, including your brain. It can also damage your emotional stability, finances, career, and impact your family, friends, and the people you work with."
"Even one drink can impair your judgment leading to risky choices such as driving under the influence."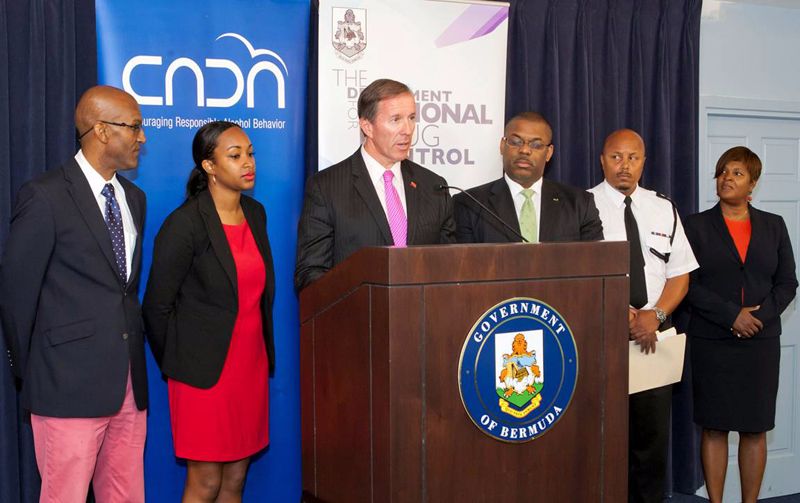 "Locally, data from the Government Forensic Laboratory confirms that during the period 2009 to 2014, alcohol or drugs were present in 75% of all road fatalities. This number is alarming.
"As a community we all know someone who is drinking too much alcohol, let this month April be a time when particular attention is paid to addressing this major problem."
"By addressing this concern, one's health can be improved by simply cutting back on alcohol consumption or making a commitment to stop drinking," continued the Premier. "We know now that alcohol comes in the form of a powder."
"Powdered alcohol "Palcohol" was recently approved for sale in some US States and manufacturers expect this product to hit retail outlets as early as this summer."
"I share the concerns of the professionals about the effects that this product will have on underage drinking 'Palcohol' can be easily concealed and it is difficult to detect its use."
"Underage drinking remains a concern for this community. Data from the Department for National Drug Control's, 2011 National School Survey, reported 55% of youth have already tried an alcoholic drink by the age of 12, and some students reported that they obtained alcohol from their parents."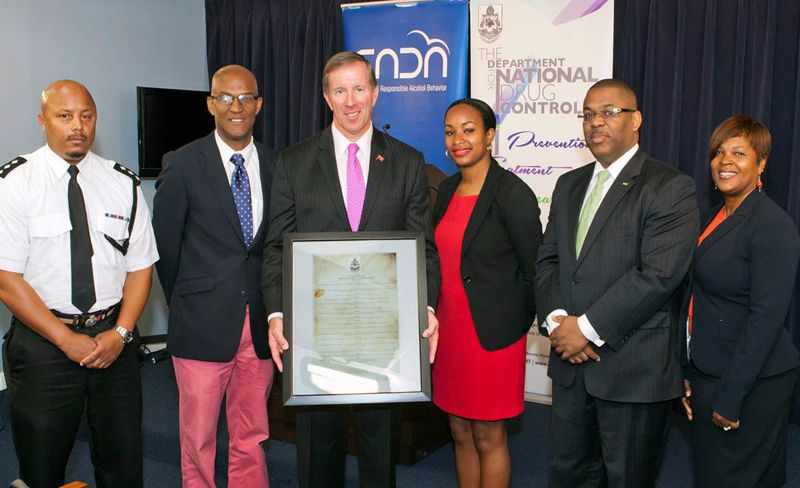 "We can no longer view alcohol as an adult problem but a problem that affects us all," added the Premier.
"Today, Bermuda joins the US National Council on Alcoholism and Drug Dependence in observing April as Alcohol Awareness Month."
"The 2015 theme is "For the Health of It: Early Education on Alcoholism and Addiction". Getting help opens up new doors and opportunities. Confronting alcohol and drug problems in one's life gives you and your loved ones the opportunity to experience a healthier and more productive life."
"As the Minister of National Security, I am pleased that CADA, in collaboration with the Department for National Drug Control is tirelessly working to rid Bermuda of the ills that are associated with excessive alcohol consumption."
Update 3.21pm: Shadow Minister for National Security Walter Roban said, "On behalf of the Progressive Labour Party, I extend my warmest greetings to you and I thank CADA for hosting this important event.
"Road safety seems to become a priority only when we have a spate of road accidents or fatalities. Yet it is something that each of us must begin to prioritize not just when it is in the headlines. And we must not only think about it we must act; first in the way we conduct ourselves on our roads and in the commitment we make to not put the lives of others or ourselves at risk through driving drunk.
"Yet history has shown us that individual actions and individual responsibility simply isn't enough, when so many of our people simply don't get it. They simply don't understand that their poor driving and unconscionable decisions have consequences, sometimes fatal, for themselves and others. That why we must carefully consider the proposals that CADA is bringing to the table and have a national discussion on making real, lasting, positive change on our island's roads.
"CADA's push for Road Side Sobriety checkpoints are just one of the measures being brought forward and we appreciate the approach that says this isn't just about catching drunk drivers, getting them off our roads and adding a few dollars to the public purse. It's also about raising awareness, creating opportunities to change behavior and also to create an atmosphere where individuals aren't being profiled or singled out unnecessarily.
"Mandatory alcohol testing at the scene of all road accidents that involve injuries isn't just good policy, its common sense.
"The creation of an Alcohol Bureau of Control to create a one stop shop to regulate and oversee all aspects of alcohol sales and licensing and oversee events is an idea that reforms our current antiquated system, brings Bermuda into the 21st century and will enable better oversight.
"Social Hosting legislation to address the fact that our young people are usually first introduced to alcohol in the home and that we often are not conscious of the responsibility we have for those whom we serve alcohol to in our homes. This legislation would not only modernize our laws, but will also reinforce the value that most of us were taught as children; I am my brother's keeper.
"These ideas espoused by CADA are ones that we in the PLP are glad to see being raised and we look forward to these and other new ideas being brought to the table debated and implemented for the good of all our people. I thank you for inviting me to participate."
Read More About