Due to Hurricane Gonzalo, the Bermuda Kennel Club's [BKC] October 2014 dog shows were rescheduled and held on April 18 and April 19, 2015.
A spokesperson said, "The BKC Show Committee were happy to welcome the same judging panel as planned. As make-goods, the shows were really good – we lost some entries but gained some new ones.
"Despite the very wet Saturday [Apr 18], everyone agreed that the shows were a great success, ran smoothly and exhibitors had a fun time showing the dogs they all love so much."
Lynda Saranchuck, Mel Saranchuck, handler Shelby Williams, Judi Byrne, owner Thea Todd, and Bill Byrne: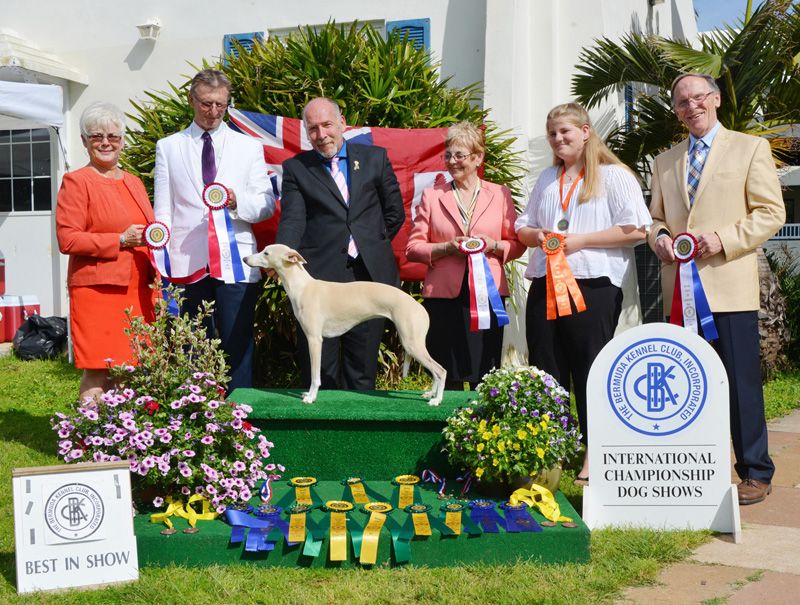 "Bermuda-bred champion Whippet Winton Windwhistle Willow wowed the judges and won Best in Show in all four shows. This awarded her the BKC Trophy [sponsored by Pedigree] for the best overall dog owned by a Bermuda resident, and the best overall Bermuda-bred dog.
"The other big winner was Vizsla puppy Addaci Lil Pumpkemon [aka Rigger], shown by her Junior Handler Mackenna Bearden. Rigger won Best Puppy in Show twice and Reserve Best in Show once, awarding her the best overall Sporting Dog and best overall Puppy in the four shows."
Mackenna Bearden and Rigger: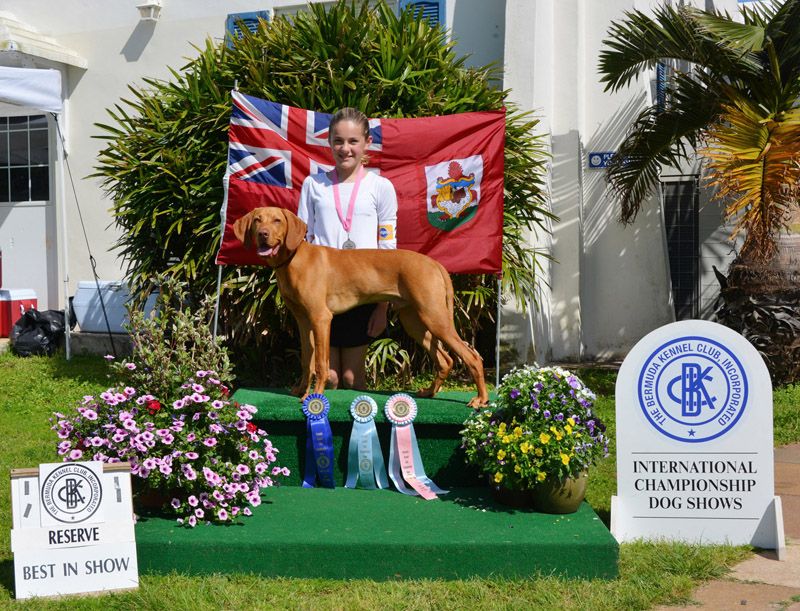 "These shows saw 13 dogs qualify for the prestigious CRUFTS 2016 in the UK. We are hoping that at least two local dogs will be travelling to compete in March in this prestigious British dog show.
"The next BKC dog shows have been set for October 24 and October 25, 2015 at Somersfield Academy."
For more information, visit the BKC Show website.
-Photos by Ian Havercroft
Read More About
Category: All, Entertainment