The Bermuda Tourism Authority [BTA] is today [May 5] launching a new UK consumer campaign in partnership with online travel agent Expedia, saying it is part of their "wider strategy to raise awareness of the island's accessibility, range of experiential holidays and showcase it as an instant escape with direct flights from London Gatwick."
The BTA said, "The campaign combines interactive outdoor locations around London with digital and social media channels, directing consumers to the Bermuda booking page on Expedia. The creative entices consumers to ditch a dark and stormy London landscape and escape to the pink sandy beaches of Bermuda for a refreshing Dark n' Stormy ® cocktail.
"This is the latest in a programme of initiatives to showcase the island's growing range of experiences, cultural events and attractions. Working with the UK travel trade, the BTA is developing a range of co-op initiatives, tour operator familiarisation trips and client networking events. This includes sponsoring the 2015 Travelmole Sailing Regatta and a special event at the first America's Cup World Series racing events in Portsmouth this summer.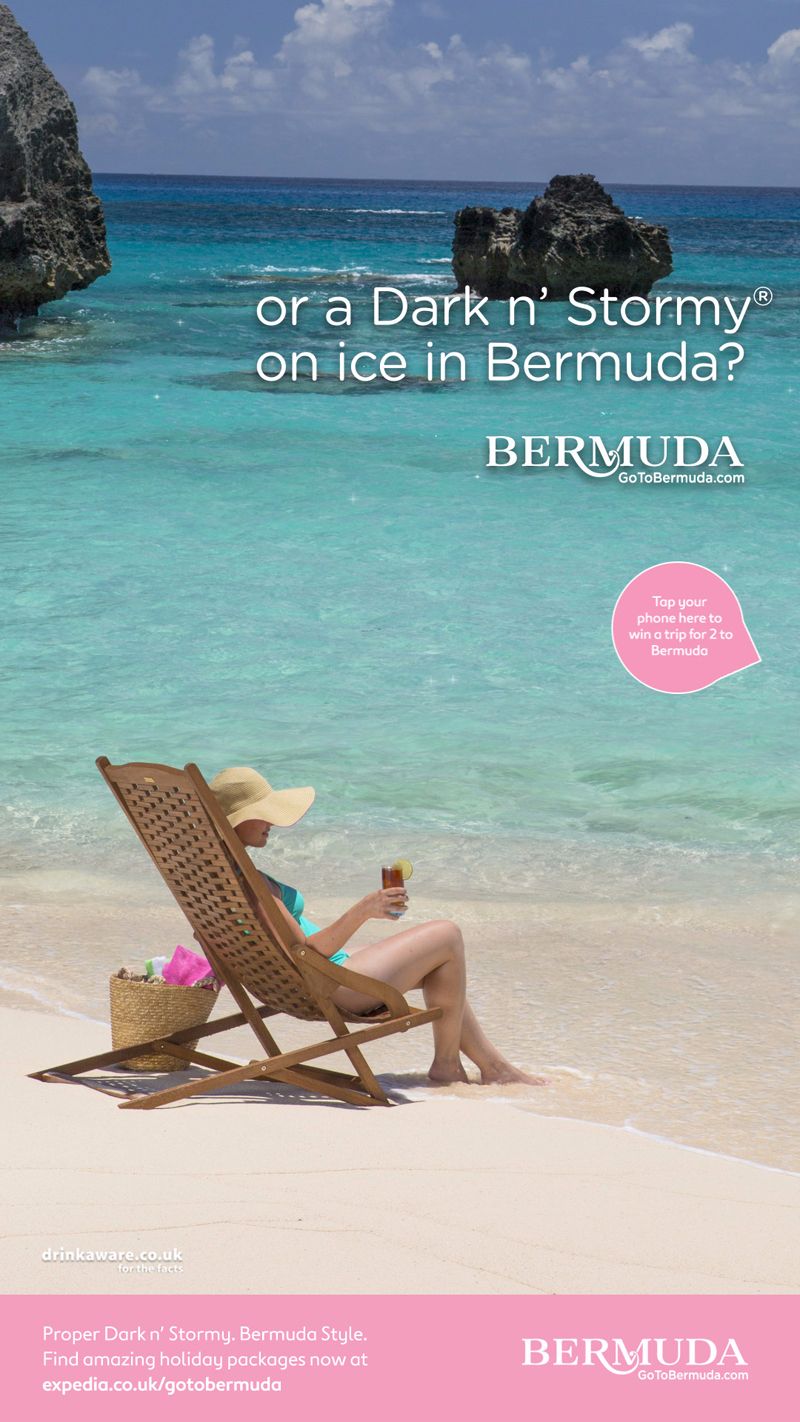 "Harnessing the interest in the America's Cup in the UK, the BTA is partnering with Team Origin, the event organisers of the UK World Series events on behalf of Ben Ainslie Racing. The objective is to raise awareness of the sailing events, encourage more spectators to Portsmouth and ultimately to Bermuda.
"Together, they are offering competitions to the 400,000 subscribers of Times+, the online version of The Times newspaper, to win 'Golden Tickets' to the Portsmouth racing village in July. The star prize is a trip to Bermuda this October to watch the third round of World Series events.
"Another sports tourism marketing engagement will take place at the Ladies European Masters in early July at Buckinghamshire Golf Club. The Tourism Authority has already secured an agreement to promote the women's golf events on its constantly growing golf tourism calendar. Female golf fans will also hear about Bermuda's attractiveness as a family destination.
"This past weekend, the BTA supported Bermuda Day celebrations in Liverpool on 3 May and will also play a role at similar celebrations in London on 25 May. The events are organised by SpredLuv and the CKC Corporation – a group of Bermudians now living in the UK who are passionate about sharing the island's unique culture and cuisine."
Victoria Isley, the BTA's Chief Sales & Marketing Officer, said: "The UK is a very special market to Bermuda and we are creating a number of opportunities to communicate the island's key messages and encourage travellers to come and experience for themselves.
"With the cooperation of valuable UK partners like Expedia, and the leverage of popular UK events like America's Cup, this is an ideal time to share the evolving story of the island to a new generation of experiential travellers," the BTA added.
Read More About