After their community garden was hit by thieves over the Bermuda Day holiday – a garden tended by children and intended to raise funds for an enrichment programme – the Kaleidoscope Arts Foundation is finding itself the beneficiary of an $800 donation from local MPs, covering the estimated value of the lost corn crop.
The primary school students who had planted and tended the garden hailed from schools including Prospect Primary, Elliot, and Victor Scott, leading Kaleidoscope teacher Omari Dill to point out the thieves stole from children.
After the theft, Kaleidoscope's Fiona Rodriguez-Roberts said, "Our garden needs donations to function; we're a non-profit. One way to not be completely dependent was for us to have our own cash-crop, and we planted a full beautiful crop of corn which was supposed to bring in a nice yield of $800, which is a big chunk of money for our non-profit."
MPs Nandi Outerbridge and Sylvan Richards presenting the $800 donation: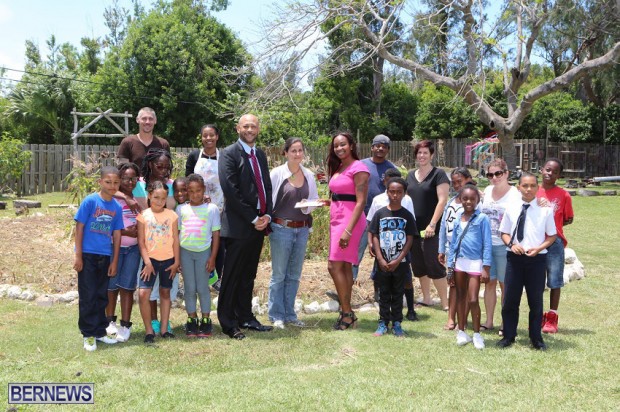 The presentation was made on Friday, and OBA MP Nandi Outerbridge said, "This afternoon, a few of our local MPs got together from the OBA and decided to donate $800 to the Kaleidoscope Foundation.
"After reading the story on Bernews how their crop was attacked by thieves, and it was $800 that would have been going towards the charity, we decided to pitch in and donate some money."
MP Sylvan Richards said, "We're just pleased to be able to help out in a situation like this, where unfortunately the kids planted corn and were looking forward to reaping their corn, actually harvesting it themselves, and they won't have that opportunity now because of some selfish individual.
"We hope that this $800 will help take the sting out of that, and they can plant some more corn and hopefully this time harvest it themselves."
Kaleidoscope's Fiona Rodriguez-Roberts and Omari Dill spoke to Bernews after the theft:
Speaking on Friday, Ms. Rodriguez-Roberts thanked the community for their "outpouring of love" since the theft, saying the very next day someone came in off the street and made a donation, people have put money in their account, and people have also offered to donate tools and plants to the programme.
Read More About