[Updated] While thousands of people were celebrating the Bermuda Day holiday, a thief [or thieves] made off with a crop of corn from the Kaleidoscope Arts Foundation – corn that was being tended to by young children and was expected to raise about $800 to help fund the registered charity's programmes.
The theft occurred from the garden of the Kaleidoscope Arts Foundation, a non-profit community arts center dedicated to teaching art to children.
The eventual yield of corn was intended to help fund a further enrichment program, and was expected to bring in some $800 for the program, which operates out of facilities on Jubilee Road in Devonshire.
Not only did the thieves steal the corn, they destroyed part of the garden as well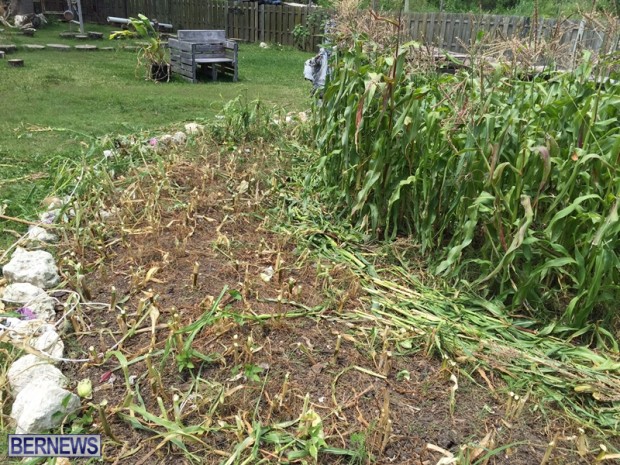 The primary school students who had planted and tended the garden hailed from schools including Prospect Primary, Elliot, and Victor Scott, leading Kaleidoscope teacher Omari Dill to point out the thieves stole from children, asking what type of example does that set.
Kaleidoscope's Fiona Rodriguez-Roberts told Bernews, "Our garden needs donations to function; we're a non-profit. One way to not be completely dependent was for us to have our own cash-crop, and we planted a full beautiful crop of corn which was supposed to bring in a nice yield of $800, which is a big chunk of money for our non-profit."
"Over the weekend, a lovely Bermuda Day, we come back and our corn has been taken by night thieves. So we have maybe $50 worth of corn which we're going to sell," Ms Rodriguez-Roberts added.
A box of corn shows what remained of the crop after the theft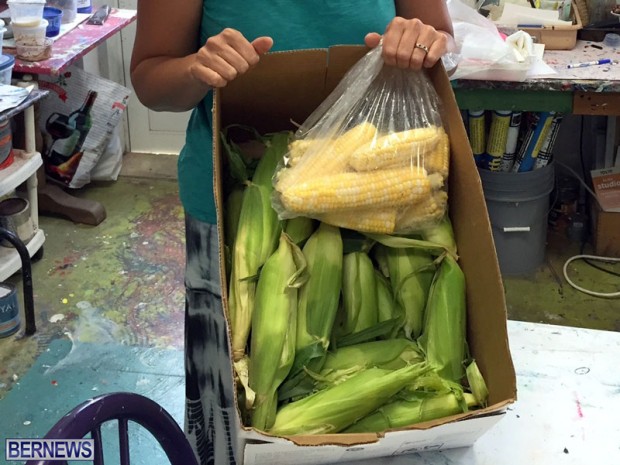 Mr. Dill said, "They completely raided and destroyed what they didn't take. And I'm from the area, so I know that it's part of a string of robberies that's been happening in private homes and gardens, and now at Kaleidoscope.
"It's not the first or second time that Kaleidoscope has been broken into, and it just gives me a whole lot of disgust, partly because I feel that I might even know the people who did it," added Mr Dill.
"And the people who are doing it are affecting the places that are taking care of their children, essentially, that's teaching their children the right way – what kind of example is this?"
Kaleidoscope's Fiona Rodriguez-Roberts and Omari Dill:
Ms. Rodriguez-Roberts said, "Enough was taken that these guys sold it, they made a profit from what we were bringing in to go back into an enrichment program. They didn't feed themselves with it…they took our hard labour. It's really frustrating."
"They stole from children – for the children to come in now and see this after Bermuda Day they are vexed," said Mr Dill, adding, "The irritating part is that we don't even have a bag [of corn] to give to those children so they can take it to their families…"
Anyone with information about the theft can contact the police on 295-0011, or contact Kaleidoscope directly via their website. Those wishing to donate to the non-profit can also do so via their website.
Update May 27, 11.59am: Donations to the Kaleidoscope Arts Foundation can be made directly to Bank of Butterfield account 20-006-060-807-509-100.
Read More About