From July 6th to July 28th, Bermuda's show-choir programme Ah! Tempo will be offering a comprehensive performing arts Summer Academy for the island's young performers.
"We couldn't be more excited about our summer programme," said Programme Director Rajai Denbrook.
"We have a very strong team of artist-educators working to make our Summer Academy a reality, and we don't want any students interested in the performing arts to miss out on this opportunity."
A spokesperson said, "In addition to receiving high-quality daily instruction from certified instructors in vocal technique, vocal styles, sight reading music, acting, dance, prop making and set design/building, Ah! Tempo's students will devise original drama around original locally produced music, for a full-scale original musical theatre production, to be performed on July 25th, 26th and 27th."
"We have nine songs that have been written and produced by John Woolridge [writer/producer of Proud To Be Bermudian], and Jerome Stovell, of Allegro Music International.
"Our theme this year is "Geneartion I"; we're looking for our students to boldly use this creative opportunity to give us a meaningful and in-depth view into what it's like to be a young person of Bermuda and the modern world, through song, dance, and drama."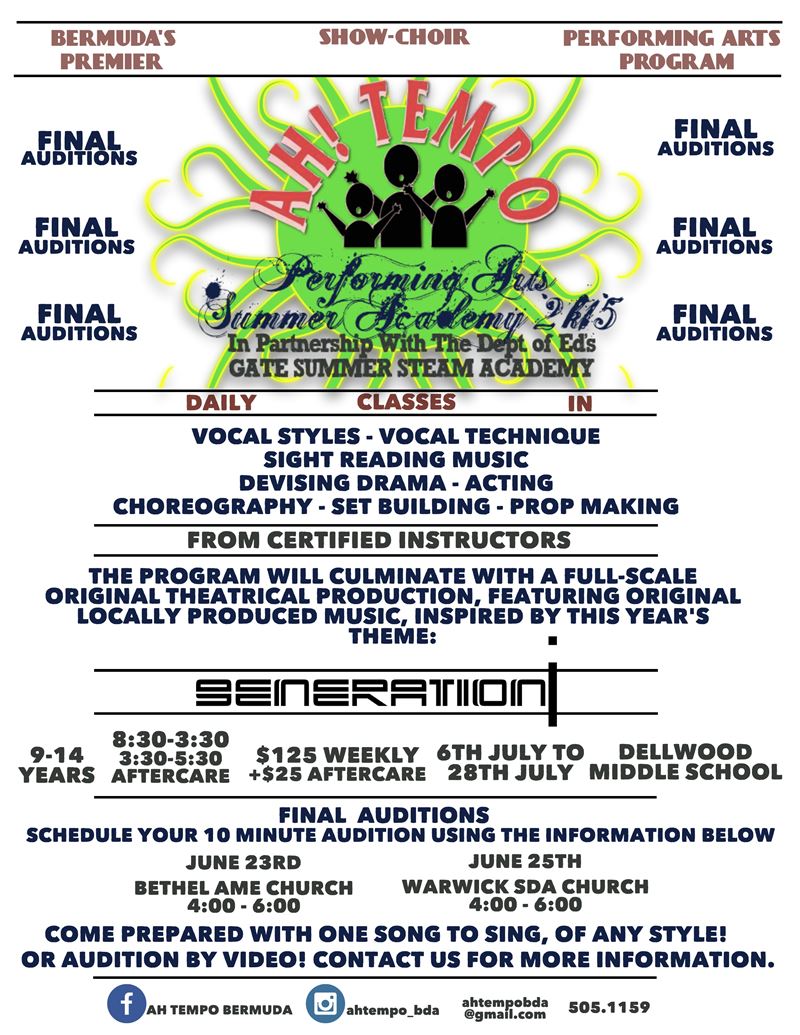 "The summer programme will have eight instructors: music teachers Shannon Rose, Terry Henry, Malinda Jennings, and the Director of AH! TEMPO, Luann Wainwright-Dill, local dancer and choreographer Malachi Simmons, veteran educator and artist Michael Bean, para-educator and artist Cindy Esdaille, and myself as the programme's drama specialist.
"Ah! Tempo is holding its final auditions for the programme on the 23rd of June at Bethel AME Church in Shelly Bay, and the 25th of June at Warwick Seventh Day Adventist Church next to the Rubis gas station on South Shore, from 4.00pm to 6.00pm.
"Interested persons should call 505.1159 or e-mail ahtempobda@gmail.com to schedule a 10 minute audition. Students should come prepared to sing one song of any style, a capella; there will also be a drama and dance element. Auditions can also be recorded and forwarded to AH! TEMPO for viewing; contact them for more information.
"The Summer Academy is for 9-14 year-olds and will cost $125/week, with aftercare from 3:30pm – Bermuda's Premier Show Choir Programme ahtempobda@gmail.com 5:30pm at $25/week. The programme will run daily from 8:30am – 3:30pm at Dellwood Middle School, and is being delivered in partnership with Department of Education's GATE [gifted and talented education] STEAM Academy.
"This really is a major opportunity for our island's young performers to challenge themselves and hone their skills, in a supportive and engaging learning environment. We've seen a large need in the community for these kinds of learning opportunities, and we're proud to be a part of satisfying that need.
"Ah! Tempo is a values-based educational program that is committed to increasing the availability of world-class performing arts opportunities for Bermuda's young people. We strive to motivate our students with our three program values of family, excellence and creativity, in order to facilitate a warm and engaging learning environment.
"All of our certified instructors are passionate arts practitioners who are actively practicing in their fields and who are committed to the development of Bermuda's talent and standard of performing arts."
Read More About
Category: All