Bermuda Electric Light Company Limited [BELCO] today filed a submission with the Energy Commission to increase its rates for electricity service.
The company said, "The filing is in accordance with the Bermuda Energy Commission's June 2014 directive for BELCO to file a Base Rate Case no later than September 1, 2015. The filing proposes an increase to the Base Rate which is the kilowatt hour [kWh] cost, and the tier-structured Facilities Charge to better reflect the actual cost of service. The changes would increase the monthly bill for the average residential customer using 600 kWh per month by approximately 7.8%, those using less would have less of an increase.
"The average increase would be approximately 14.8% for commercial customers. Increases for the largest commercial customers, "Demand Customers", will be based on their efficient use of the electricity system ranging from approximately 8% to over 20%. However, if the price of oil remains at current levels, all customers using the same amount of electricity as they did in September 2014, even with the increase, would still see a lower total bill compared with one-year ago.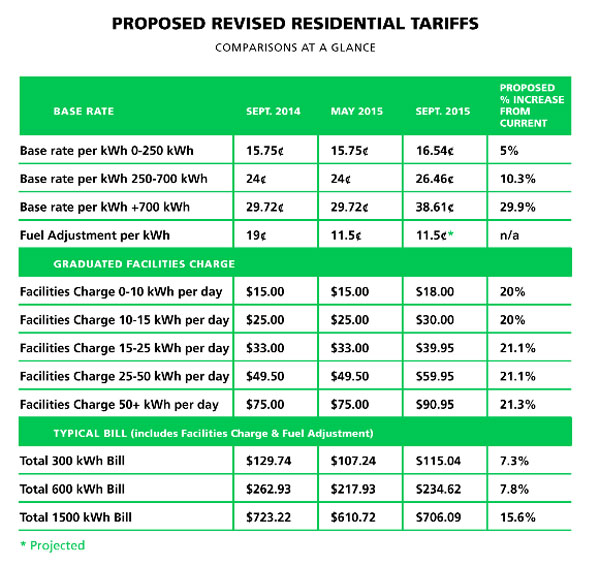 "BELCO has invested a total of $375 million into electricity infrastructure since 2000 to maintain the reliable, first-world electricity system that Bermuda expects. For 2012, CARILEC, the association of Caribbean electric utilities, recognized BELCO as the Best Overall Utility because of its system performance relative to its peers.
"BELCO's investment in electricity infrastructure has been largely funded by operating cash flow and shareholders' retained earnings, this includes $66 million since the last Base Rate filing covering 2011, 2012 and 2013, and $22 million in 2014. This high level of investment has been made possible by Ascendant Group Limited shareholders, who have been carrying the investment load under BELCO's equity structure.
"The high level of investment has been maintained against a backdrop of an 11% decline in electricity sales since 2010, primarily as a result of six years of a progressively weakened economy, starting in 2008, and the significant Despite sustained efforts to reduce operating costs, and a substantial 65% reduction in dividends paid to shareholders in order to retain more of the Company's earnings and cash-flow for capital investment, BELCO cannot sustain these levels of investment with its present earnings.
"The Company will also not be able to attract the additional investment required to fund major initiatives that are needed to carry out energy reform and transform Bermuda's energy infrastructure. On-going investment is the basis for providing first-world electricity service to Bermuda, a fundamental requirement for sustaining a developed economy.
"As part of the filing to the Energy Commission, BELCO has submitted a professionally prepared Cost of Service Study and Cost of Capital Report, which estimates that a suitable return for BELCO, in line with peer island utilities, should be 10.5%; this is compared with the 1.81% BELCO Chief Executive Officer Walter Higgins said, "If BELCO's capital structure had included long-term debt, given its low returns and continuing capital expenditure, the Company would have struggled to service the debt. BELCO has to pay the market price for capital whether it comes from shareholders or financial institutions.
"BELCO recognizes the challenges faced by businesses and residents since the onset of the recession and, as a result, has delayed seeking a rate increase for as long as it could. Unlike some other businesses which can reduce costs by varying their products based on sales volume, the electric utility business cannot, as it has high fixed costs for equipment and maintenance of equipment in order to deliver a safe and reliable electrical supply."
Mr. Higgins added, "In areas where we can, we have done our best to reduce costs by controlling wages, changing and reducing benefits, implementing early retirements, retaining unfilled vacancies and continual operational efficiency improvements, including reducing metering losses and energy diversions. We are always actively looking at ways to better manage costs, and certainly we are looking at future infrastructure that would enable greater efficiencies for both the utility and customers with the benefit of greater stability and affordability."
The company added, "BELCO's residential tariff is based on an inclining kWh rate structure and tiered Facilities Charge, meaning that customers with lower consumption will be affected less than those who use more energy. At the current Fuel Adjustment Rate of 11.5¢ per kWh, all customers using the same amount of electricity as they did in September 2014, even with the increase, would still see a lower total bill compared with one-year ago.
"These increases would only apply to the base rate and Facilities Charge and not the Fuel Adjustment Rate. The Fuel Adjustment Rate is a pass through charge based on the cost of oil and from which BELCO does not derive any profit. The overall cost of oil to BELCO includes the purchase price of oil, freight, storage, pumping, UNESCO World Heritage Import Tax [Towne of St.George] of $0.0025 per litre [which was added in 2014], and Bermuda Customs Duty, which increased from $15.10 per barrel to $23.00 per barrel in April 2015, increasing the overall average monthly residential bill by approximately $8.00.
"BELCO must continue to invest in generation, maintenance and delivery infrastructure in order to provide the first-world electricity system critical to Bermuda's economy. The hosting of the America's Cup events, plans to revitalize and invest in Bermuda's hotel and hospitality industry and, the need to continue to provide safe and reliable service to Bermuda's global financial services industry are three examples of why maintaining a high level of reliability and service is essential to the future prosperity of Bermuda."
Read More About