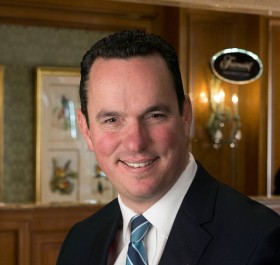 Fairmont Southampton's Director of Sales and Revenue, Simon Boden [pictured], has been promoted to Director of Sales and Marketing at Fairmont Pittsburgh.
The move follows over 16 years of development through Fairmont Hotels and Resorts for Mr. Boden.
George Terpilowski, Regional Vice President Caribbean and General Manager at Fairmont Southampton, said, "Simon has had a tremendous career with Fairmont, continually proving his dedication and value, and this new position of responsibility in Pittsburgh will give him a new set of challenges.
"I look forward to seeing the exceptional results Simon will lead his new team towards, and hope that his example of career growth resonates with our younger Bermudian colleagues."
Boden's career in hospitality began modestly, working summers in the Castle Harbour tennis shop. He attended the University of Gloucestershire, Cheltenham and earned a BA in Business Studies and Hotel Management.
A spokesperson said, "In 1994, he did an internship at Fairmont Southampton as a Management Trainee, gaining experience in every hotel department. Following graduation, Boden worked at London Metropole Hotel [then associated with the Princess Hotels chain], Monitor Company consulting, and as Assistant Manager at Ariel Sands.
"Boden rejoined Fairmont in 1999 as a Sales Manager at Fairmont Hamilton Princess. In 2003, Boden was promoted to Revenue and Reservations Manager at Fairmont Hamilton Princess. To gain international experience, Boden moved to Fairmont Orchid in Hawaii in 2005 as Director of Revenue.
"He returned to Fairmont Southampton in 2008 as Director of Discover Bermuda, Fairmont Southampton's in-house destination management company. In 2011, Boden transitioned back into the strategic sales division as Director of Revenue at Fairmont Southampton.
"His sales acumen was recognised and in 2013 he was promoted to Director of Sales and Revenue.
"Simon is not only a seasoned sales professional, but also a dedicated and enthusiastic ambassador of real Bermudian hospitality. I want to thank him for his unwavering support and loyalty and wish him every success in this exciting new position," said Shelley Meszoly, Regional Director of Sales and Marketing.
"Boden has been recognised several times as a Fairmont "Master" for over-achieving his goals. He was rewarded for his 2014 success with a trip to The Savoy in London and Fairmont St. Andrews in Scotland.
"His previous Masters wins sent him to visit the Chinese Fairmont Peace Hotel, Shanghai and Fairmont Nanjing in 2014 and a Caribbean cruise in 2001. Boden was awarded Leader of the Quarter and won a Fairmont Hotels & Resorts "Ideas Count" award.
"Boden's new position of Director of Sales and Marketing at Fairmont Pittsburgh provides the opportunity to work within a newly-constructed luxury hotel with 185 rooms. Pittsburgh boasts endless activities and a burgeoning technology industry."
Mr. Boden said, "I look forward to proving myself and establishing myself in a new, more senior role. What I enjoy most about what I do is developing business success, and working at such a successful hotel will provide me a lot of new skills.
"I am excited for my family to experience a new city, and am grateful I have the opportunity to live in a new place while my daughters are still young. I look forward to a long future with Fairmont Hotels, and hope to return home when the time is right to share my newly gained skills and experience with Bermuda's hospitality industry.
"Hospitality is a great industry and is absolutely what you make of it. Any Bermudian with drive, passion, and determination can go a long way in this industry. You have to be willing to put in the work, to go above and beyond, but the opportunities for success in this industry are endless.
"I am very lucky to have had so much support and varied opportunities during my time with Fairmont Hotels."
Read More About