On May 19, 2015 in New York City, Bermuda Commercial Bank was presented with the Deutsche Bank 2014 EURO STP ["straight through processing"] Excellence Award.
This award recognised BCB for the "exceptional quality of payment messages" sent to Deutsche Bank's Global Transaction Banking Operations unit for payments in Euros for the 2014 fiscal year.
BCB Operations Team L-R Melissa Smith, Sue Davis, Juanita Githiniji, Sophia Ming, and Nichola Nelson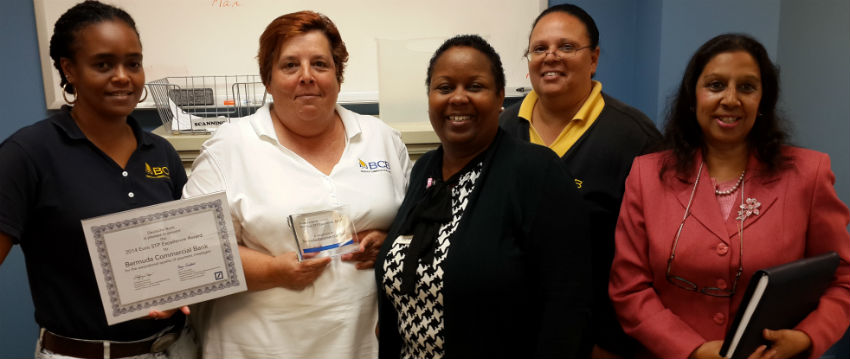 In 2014, BCB processed approximately USD 30 billion in total payments and funds transfers. Deutsche Bank is BCB's key correspondent bank, handling the Bank's USD, GBP and EUR payments and transfers. The award recognises BCB for achieving a near-zero error rate in EUR payments and transfers, amongst the lowest of all Deutsche bank clients.
BCB Treasurer Dane Commissiong commented that "The BCB Treasury Operations team strives for excellence each and every day, thus it is very gratifying to be acknowledged for our STP excellence by a global leader in payments such as Deutsche Bank."
Read More About