On Friday, July 3, Friends of Hospice together with BELCO hosted a reception at The Royal Hamilton Amateur Dinghy Club, recognizing 10 Corporate Duck Race Winners and the volunteers who helped to make the 2015 Rubber Duck Derby successful.
Friends of Hospice is the charity that supports Agape House, Bermuda's only hospice. The Rubber Duck Derby is the charity's major annual fundraiser.
Jane Bermingham, Friends of Hospice Board Member [far left] presented plaques to Corporate Duck Race winners from left to right, Gary Weller [Argus Group]; Vicki Johnston [Conyers Dill & Pearman]; Sara Schroder Ross [Bermuda Commercial Bank]; Jade Morris [Paradigm Consulting]; Senior Pulley [ AII Management Ltd], along with Denton Williams [BELCO, COO][far right].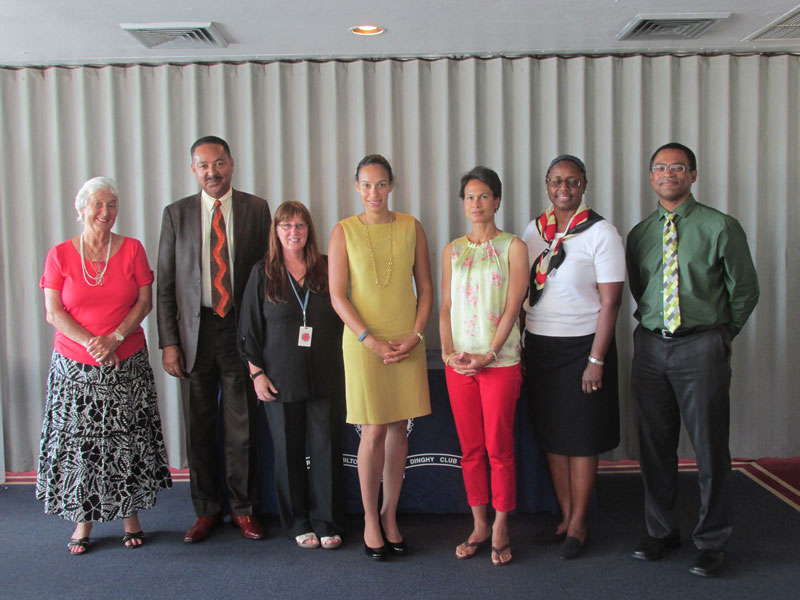 Addressing guests at the reception, BELCO Chief Operating Officer Denton E. Williams said, "Thanks to corporate support and individuals who buy raffle tickets, the Rubber Duck Derby met its fundraising target of $150,000 despite the challenging times that Bermuda's charities are facing."
BELCO has been the title sponsor of the Rubber Duck Derby for 19 years, since the event's inception. Explaining why BELCO is committed to supporting Friends of Hospice and Agape House, Mr. Williams said, "Friends of Hospice delivers on its mandate, which is to ensure that everyone has the right to pass their final days with dignity, peace, personalized care and comfort, and there is only one chance to get it right."
Mr. Williams thanked corporate Bermuda, saying, "The numbers verify that corporate contributions to the Derby, through the purchase of corporate ducks, contributed significantly to meeting the fundraising goal."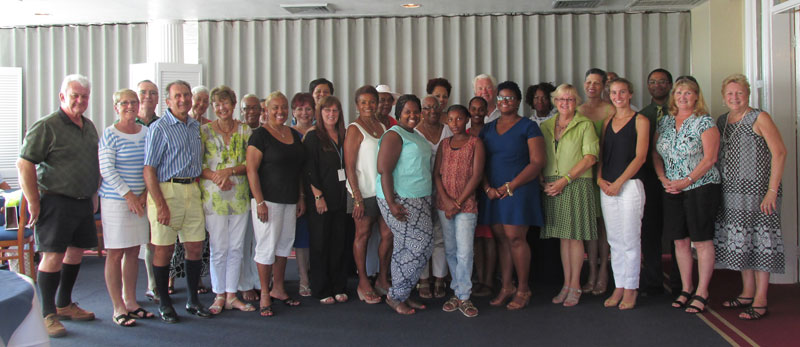 The Corporate Race winners of the 19th Annual Rubber Duck Derby were: 1st Place – AII Management Ltd.; 2nd Place – Apex Law Group Ltd.; 3rd Place – Conyers, Dill & Pearman; 4th Place – Argus Group; 5th Place – Bacardi Limited; 6th Place – Paradigm Consulting Ltd.; 7th Place – Bank of Bermuda Foundation; 8th Place – M&M International Ltd; 9th Place – Bermuda Commercial Bank Limited; 10th Place – Endurance Speciality Holdings Ltd. In addition, BELCO received a plaque of appreciation from Friends of Hospice, as did the Lindo's Group of Companies, which provided marketing support to the Derby.
Cathy Belvedere, Friends of Hospice Executive Director, thanked the volunteers for the tremendous help they provided to ensure the Derby was a success, saying, "It was six weeks of selling tickets Island-wide, collecting raffle prize donations, delivering posters, as well as getting our ducks ready for their races. We had 132 volunteers support us for the entire event, with 72 volunteers on site on Derby Day."
She added, "Everyone who assisted with the Derby gave one-hundred percent, and Friends of Hospice is very grateful."
Funds raised by Friends of Hospice help Agape House to meet the medical, emotional, psychological and spiritual needs of patients and their loved ones. Agape House is open to all persons with terminal illnesses, offering palliative care when curative treatment is no longer a viable option.
For more information on Friends of Hospice and how you or your company can help to ensure that Bermuda continues to have the highest quality hospice care, please visit friendsofhospice.bm or call 232-0859.
Read More About