The date for the 2012 Rubber Duck Derby has been set for June 3rd, and Ordnance Island in St. George's will once again play host to both rubber ducks and humans.
At a press conference this morning [Apr.17], Friends of Hospice together with Bermuda Electric Light Company Limited (BELCO) today launched the 16th Annual Rubber Duck Derby to be held on Sunday, June 3rd at Ordnance Island, St. George's.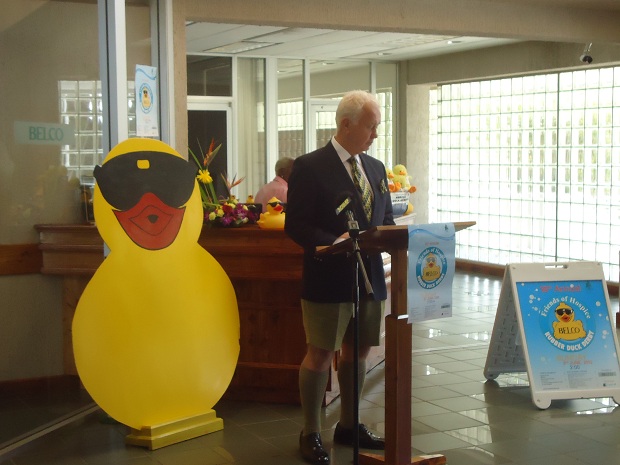 The major sponsor for this event is BELCO, who have generously sponsored the Duck Derby for the past fifteen years. Friends of Hospice is the charity supporting Agape House and hospice care in Bermuda and this is their biggest fundraising event of the year. The goal for 2012 is $145,000.
Last year's Rubber Duck Derby: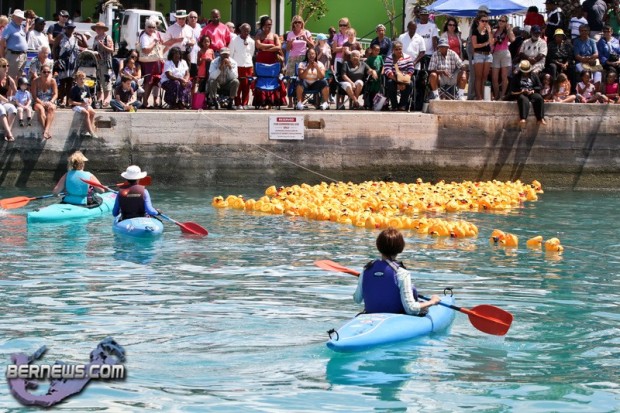 The June 3rd Rubber Duck Derby will start at 2pm. There will be food stalls, kiddie land with a bouncy castle, games and face painting, as well as baked goods and lots of live entertainment. The Corporate Duck Race is the first race of the day starting at 3pm. This will be followed by the Youth, Pamper Me and Family races.
Linda Smith, BELCO Senior Vice President of Corporate Relations said, "BELCO is pleased to sponsor The Rubber Duck Derby. It provides a fun way for the community to assist Agape House, the Island's only inpatient hospice facility."
Last year's Rubber Duck Derby:
According to Ms. Smith funds raised through the Derby have been used to fund a full time chef, a full time counsellor and art therapist, a volunteer companion programme, additional education for Agape House staff as well as fund ongoing infrastructure improvements to Agape House.
Friends of Hospice Vice Chairman, John Dale, thanked the public for their support throughout the years through ticket sales and attending the races on Derby Day.
He explained, "Friends of Hospice works alongside the staff of Agape House to meet the practical and emotional needs of the patients and their families by offering programmes and services that enhance their quality of life. We are committed to the belief that we all have the right to pass our final days with dignity, peace and comfort."
Video from last year's Rubber Duck Derby:
Rubber Duck Derby tickets are available at Agape House, BELCO, Bermuda Gas and Utility and FC Service Station (Collector's Hill) or by calling Friends of Hospice at 232-0859. They will also be sold at grocery stores and other locations throughout the Island during April and May, as well as at this Ag Show this Friday. To find out more about how to help name the new Rubber Duck mascot, contact Sarah Dunstan at Friends of Hospice.
Read More About
Category: All