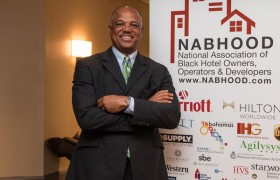 The National Association of Black Hotel Owners, Operators & Developers [NABHOOD] heard new information about tourism investment opportunities in Bermuda at two of its annual summits – the African American Hotel Ownership & Investment Summit and the International Multicultural & Heritage Tourism Summit.
The BTA said, "The Bermuda Tourism Authority's [BTA] Chief Investment Officer Andy Burrows was a leading voice at the summits, speaking on several panels regarding hotel development and tourism infrastructure investment in the region. Tourism industry voices from Latin America and the Caribbean were also part of the dialogue.
"The African American Hotel Ownership & Investment Summit and the International Multicultural & Heritage Tourism Summit took place simultaneously in Miami between July 14 and 17. The Greater Miami Convention & Visitors Bureau, Hilton, Starwood and Marriott sponsored the conferences.
"NABHOOD is the driving force behind both events as part of its mission to increase the number of African-Americans and other ethnic minorities developing, managing, operating and owning hotels.
"Key senior development personnel from Marriott, Wyndham, Hilton, IHG, Red Lion Hotels, Choice Hotels and established hotel investors and owners shared their companies' commitment to supporting the growth of minority hotel ownership and community development.
"Multicultural Tourism and Hotel development are seen as a major driver for sustainable community development, economic growth and employment.
"Principals from the Government of the Bahamas, Destination DC, Greater Miami CVB, Oregon Convention Bureau and the Inter-American Development Bank shared policies and sales and marketing initiatives they are developing to drive and increase investment and development to their areas.
"Bermuda's rich and diverse multicultural history and its proposed changes to the investment environment to encourage growth in tourism development were very well received."
"There was significant progress in Bermuda to speak of at this year's conference," Mr Burrows said. "Talking about the advances we've seen at the former Club Med site, at Morgan's Point, with Edgehill Manor and even at Horseshoe Bay are all very important messages to deliver. The international investment community remains interested in Bermuda and wants to know what's going on in Bermuda.
"I also listened closely to what investors are telling us. While medium and large properties are important, there is an emerging trend toward investment in small guest properties in the region.
"This is an effort of hotel brands and investors to capture the new experiential and cultural traveller. It's a conversation I will continue on and off the island to determine what ways our tourism economy can benefit from this trend."
Read More About