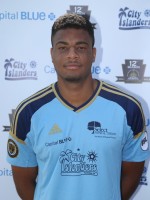 Bermuda's Dante Leverock scored for his Harrisburg City Islanders team as they defeated the Richmond Kickers 3-2 in front of over 2,400 fans at Skyline Sports Complex in Pennsylvania.
The club's match report said, "Richmond put the pressure on for the majority of the first half, recording 5 shots to the Islanders 2.
"However, the Islanders were able to open up the scoring in the 27th minute with a header by Yann Ekra after a freekick taken by Jose Barril was deflected off of the near post. This was Ekra's second goal of the season.
"Harrisburg finished the first-half with composure and came out of halftime with confidence. The Islanders opened the second-half with a quality chance from Craig Foster, who managed to put it just wide of the frame.
"The next goal came in the 56th minute from Brett Jankouskas after Ekra played the former Palmyra High School standout a ball far outside the box and Jankouskas was able to burry the ball in the top right corner putting the Islanders up 2-0.
"Dante Leverock would head home a Jason Plumhoff corner kick in the 60th minute to put the Islanders up 3-0," the report continued.
Gif of Leverock's goal:
"Richmond's first goal of the match came off of a penalty kick that was awarded in the 65th minute to Jason Yeisley after being taken down in the box by Barril.
"The Islanders next opportunity came at the 80th minute when Ken Tribbett carried the ball past half and played a ball to Craig Foster, who narrowly missed the frame.
"Richmond was awarded their second penalty kick of the night in the 86th minute after Yeisley was taken down in the box by Shaquelle Dyer. Yeisley easily finished putting the Kickers within one with 4 minutes remaining."
Leverock and his teammates will be back in action this Wednesday as they take on Louisville City FC.
The full game replay is below, Leverock's goal is shown at the 1 hr 25 min mark:
Read More About