The African Diaspora Heritage Trail [ADHT] Bermuda Foundation, along with Title Sponsor, Green Lite Café and Eatery, will host a Back to School Bake-Off with proceeds in aid of the production of an ADHT activity/coloring booking. The book will feature sites of memory on the ADHT Bermuda trail and will give children and families an opportunity to learn about each site.
The Back to School Bake-Off will be held at the Land Fall Restaurant, 165 North Shore Road, Hamilton Parish, on Saturday, 5 September 2015 starting at 5:00 p.m.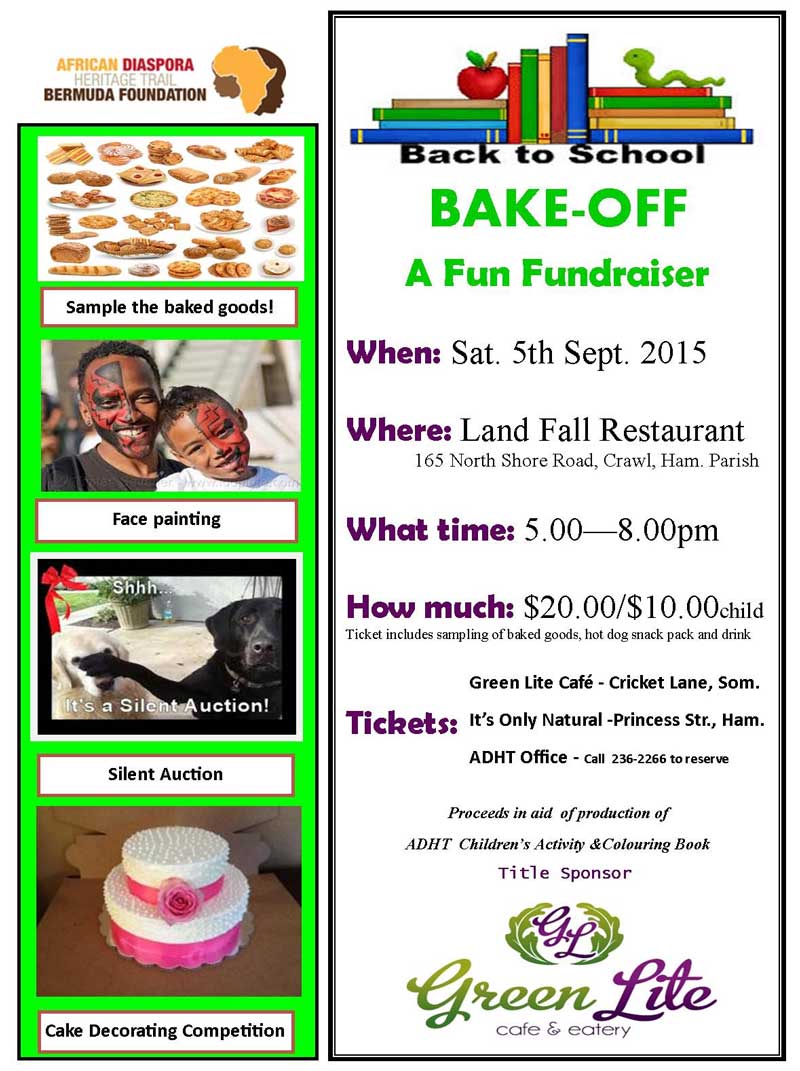 "The colouring book, targeted at young people will join with our annual Day of Remembrance Lecture series, which is targeted at adults, as another very tangible way in which ADHT educates the community about the African Diaspora, in general, and Bermuda in particular." said Maxine Esdaille, Chair of the ADHT.
"This fundraiser will go toward the production of the activity book, which is being designed by talented artist Rickeesha Binns, who developed a similar book for the 200th Anniversary Celebration of Pilot Darrell in April 2015.
"This new activity book for the ADHT will include pictures and activities about Pilot Darrell Square and St. Peter's Church and Graveyard – both in St. Georges; as well as Barr's Bay Park, Enterprise Landing Site and the Sally Bassett Statue in the Cabinet Grounds, both in Hamilton; Jeffrey's Cave in Spittal Pond, Smith's; and Cobbs Hill Methodist Church in Warwick."
At the Bake-Off, Home Bakers of all ages will don their chef hats and aprons, both of which are included in the registration fee, and display their baked goods in what is sure to be an intensely entertaining showdown of culinary skills as they compete for prizes and bragging rights. Registration for entry is open until Friday 28th August.
There are five categories of baked goods [Cupcakes, Cookies, Quick Breads, Vegan and Healthy Choice] and three entry categories: Adult, Youth and Family.
"Each entry will be judged by well-known persons in the culinary trade, who will choose three winners from each category. In addition, the public will also be able to vote for their favourite, who will win the People's Choice Award.
Mrs. Esdaille added "An especially exciting first-of-its-kind competition will take place during the BAKE-OFF. This is a timed- cake decorating competition. Local invited cake artists will have 60 minutes to decorate a cake in the Back to School theme. These cakes will then be judged by Jamie Carmichael of Dream Wurx Cakes and Bernard Stemphlet from The Chef Shop, International Imports."
Tickets to this exciting event can be purchased at Green Lite Café & Eatery in Somerset, It's Only Natural on Princess Street in Hamilton or you can call the ADHT office at 236-2266 to reserve your ticket or purchase your ticket at the door. Tickets are $20.00 adults, $10.00 children and include the sampling of the baked goods and a snack pack and drink.
Read More About
Category: All, Entertainment