The Devil's Hole Family [DHF] held their 3rd Annual Back To School event at Devils Hole public dock on September 3rd.
The event was put on with the assistance of key organizer Barry Gibbons and the DHF community. Organizers, volunteers, and children flooded the public dock to support the event that went from 1pm -11pm on Sunday with activities ranging from jet skis, fun castles, rubber rings, food and snow balls to a giveaway of back packs and school supplies.
The event was hosted by Devils Hole resident Sharia Whitehurst who said, "Our fun day was awesome! I was honored when Barry asked me to host the event this year; I didn't think twice to answer yes. It's the least I could do. I love this community! Can't wait until next year!"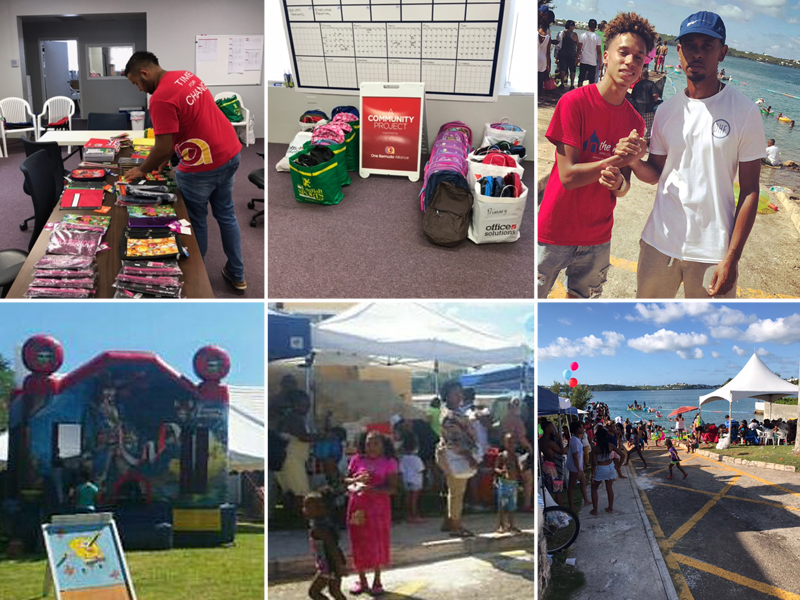 Present at the DHF event was the area MP Sylvan Richards who has supported the community event for the last two years.
"The Devils Hole Family Back to School Community Fun Day has become a signature end of summer event in the Devils Hole Community," Mr. Richards said. "I wish to thank Mr. Barry Gibbons, the main organizer of this event, for his vision and commitment to uplifting the Devil's Hole Community and in particular, providing a fun day for the children of the area prior to their return to school."
There are a host of sponsors and donors for this event including the Future Bermuda Alliance, the youth arm of the One Bermuda Alliance, which donated 20 bags and filled an additional 30 bags with school supplies for the children who attended Sunday's event.
The Future Bermuda Alliance had their first public giveback under new Chair, Justin Mathias, who immediately after learning about the event contacted organizers to see if they needed any help.
"We got in contact with Barry to see if we could help in anyway," he said.  "I have personal connection with the area as my sister and nephews have lived there their whole lives and canvassing with MP Sylvan Richards for the last two elections has expanded that connection.
"Our initial plan was to fill 30 bags with supplies but we got an encouraging response from OBA parliamentarians and outside donations that gave us the push we needed to add 20 more bags and get Barry and DHF to their 100 bag target. The day was beautiful and a nice atmosphere for the local community, we are encouraged by the success of the event and look to support this and other events in the future."
Mr. Mathias added that he would like to thank Barry Gibbons, Devil's Hole Family community, area residents, OBA Parliamentarians, and the staff at English Sports Shop and Stationary Store.
"On behalf of the FBA we wish all the children the very best in the coming school year and thank all the teaching professionals for their dedication and commitment to our future," he added.
Also present at the day's gathering was newly appointed Senator Nandi Outerbridge who the FBA said "has also played an influential role in supplying school supplies and bags for the DHF event."
Senator Outerbridge said, "I enjoyed a great afternoon at the DHF back to school event with my family. My son had a great time especially in the Kid's Zone. It's always a good thing when the community comes together to help our children. I wish all the students going back to school luck in this academic year and thank everyone who helped make their transition into the school year smoother."
The organizers would like to thank:
Devil's Hole Family
Sylvan Richards, MP for constituency 7, Hamilton South
Somers Market
Future Bermuda Alliance
BGA
John Barritt & Son
Gina Thompson
Arnolds Warehouse
The Phoenix Stores
Conspec Imports
Motorworks & Controls Ltd.
Live Free
Fresh & Hungry
Marketplace
D&C Grill
Harrington Workmen's Club
FC Service Station
GNG Entertainment
PLP Constituency 7 Branch
Cedar Aviation

Read More About
Category: All