Bermuda's Flora Duffy raced to her highest ever WTS finish today [Sept 6], capturing the silver medal in the 2015 World Triathlon Series in Edmonton, Canada.
The Triathlon Union's report said, "Vicky Holland [GBR] scorched through the run at the penultimate race of the 2015 World Triathlon Series in Edmonton to score her second World Triathlon win of the year.
"Behind her, Flora Duffy [BER] and Gillian Backhouse [AUS] completed the podium, with Duffy securing her highest WTS finish ever, while the bronze for Backhouse was her first WTS medal.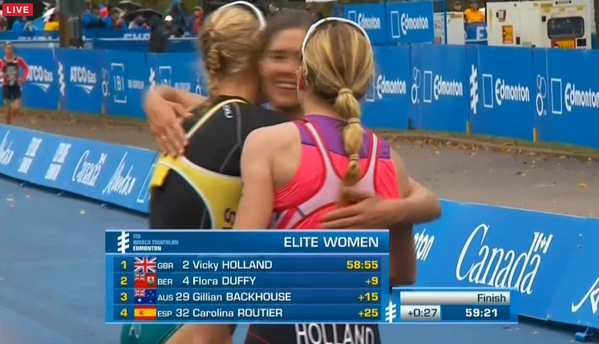 "The chilly temperatures meant several women suffered slow transitions off the bike onto the run, but it was no problem for Anja Knapp [GER] or Jamnicky, who blasted onto the three-lap run course first.
"However, it didn't take long for Duffy and Holland to suck the ladies back in and surpass them as they sought out the podium.
"By the end of the first of three run laps, Holland ran with intention to claim her second WTS win of the year, zooming ahead of Duffy by four seconds. That advantage only continued to increase over the 5km course, with the Brit ensuring the 2015 World Triathlon Series podium would be topped by only three women to date.
"Behind Holland, Duffy maintained her distance over Backhouse, who was also managing to keep Routier at bay. Duffy sailed over for silver, while a jubilant Backhouse ran over for bronze."
"I'm extremely happy with how it went," Duffy said, and in referring to the chilly temperatures of the day, she said: "You have to deal with what your dealt with on the day and ironically the girl from Bermuda did well."

Read More About